Blake Shelton Introduces 'Drake Skelton'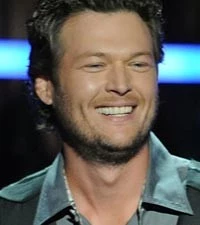 Does Blake Shelton have an alter-ego?
If you have the Oklahoma crooner's new Six Pak album, 'All About Tonight,' you might be a little perplexed by the last track, 'Got a Little Country,' which starts off with what sounds like a Grand Ole Opry announcer introducing the country superstar … as Drake Skelton.
"I have always been fascinated by when a new artist is on the Grand Ole Opry and one of the old legends comes out [to introduce him or her]," Blake explains to The Boot of the inspiration behind what is actually a comedy bit on his album. "There's no way they can keep up with all the new artists these days that are coming in and out of the Opry, and at least once a month you'll hear a great story about Jim Ed Brown or someone screwing up somebody's name. Porter Wagoner was famous for screwing up tons of people's names, because he introduced tons of people who probably never came back again. So I wanted to put myself in that position … We never said the Opry and we never said Porter Wagoner, but the voice is Gordon Mote — who used to play piano for Porter Wagoner — doing his best Porter Wagoner impression. It sounds dead on! So I said, 'Just get in and act like you're introducing me as Porter Wagoner on the Grand Ole Opry and completely screw up my name, and make little comments at the end like you didn't really even like my song anyway.'"
Blake chose to tack this funny bit onto the beginning of 'Got a Little Country,' because "there's nothing serious about this song anyway!" he insists, promising to keep the laughs coming.
"One thing we decided when we were making Six Paks was, if the whole idea is to get people back into the stores and buying albums again, then there needs to be something extra on there. And if there's one thing people are figuring out about me, it's my sense of humor … If I ever go back to making a full length album, I'm gonna have a ton of that crap in there. I like recording [comedy] more than I like recording songs! [laughs]"