10 Best Break Up Songs
There's an old saying that insists "revenge is a dish best served cold" — the idea being that executing a calculated, unexpected response to having been wronged might ultimately produce a more satisfying outcome for the revenge seeker. A few singers perhaps missed that memo, preferring instead to combat cheaters, heartbreakers and deadbeats with heated and swift retribution. (Some more "Swift" than others!) Take cover as The Boot counts down country's best break-up songs!
Killer Kiss-Off: "A cheater is always a cheater / I've got my pride and she's got you"
Hell hath no fury like a woman — or two — scorned. Kellie and Taylor vented and co-conspired on this acidic tale of "once a cheater, always a cheater." One list it won't make: songs to dance to at your wedding.
Watch the 'Best Days of Your Life' Video
Killer Kiss-Off: "Call someone who listens and might give a damn / Maybe one of your sordid affairs"
In the days before text messaging on your cell phone made break-ups less messy, Travis offered his ex the coin to let her fingers do the walking and make a pay-phone call. As a bonus, he also gives her the finger.
Watch the 'Here's a Quarter (Call Someone Who Cares)' Video
Killer Kiss-Off: "You'll find what's left of us in a cloud of dust on Highway 4″
Jo Dee's a heartbreaker and a law-breaker, speeding away from Mr. Wrong and tossing a rear-view mirror in his general direction while he turns on the waterworks. Man up, dude, no one likes a crybaby.
Killer Kiss-Off: "Take your space and take your reasons, but you'll think of me"
He may sound sad — and hoping you're sadder — but Keith also seems relieved to be rid of some excess baggage. It's a safe bet he never liked your cat or your taste in music in the first place.
Watch the 'You'll Think of Me' Video
Killer Kiss-Off: "I'm sick and lovin' tired of all your lovin' around"
Jack's lovin' mad and he's not gonna lovin' take it anymore. If he'd really used the word we all know he's thinking but not singing, you'd swear you were watching 'Scarface,' not listening to a country song. And what is it about exes and their cats?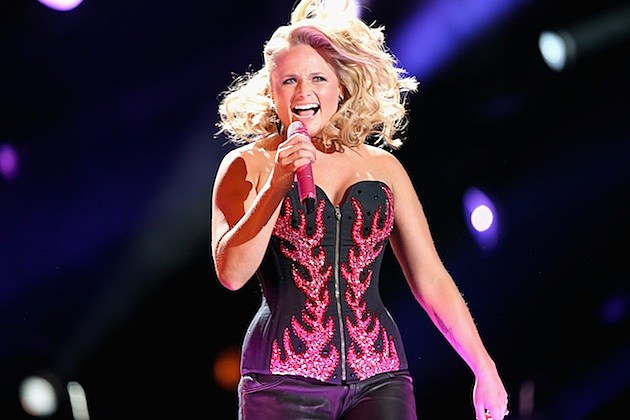 Killer Kiss-Off: "I don't hate the one who left, you can't hate someone who's dead"
Miranda's version of a torch song is one incendiary send-off. Cheatin' may not be a crime, but arson carries some pretty stiff penalties. So does murder. Two albums later, the body count just keeps climbing.
Killer Kiss-Off: "Pucker up and close your eyes, and kiss this goodbye"
Not to be confused with Faith Hill's chirpy hit, 'This Kiss,' this cheeky number finds our heroine pointing to her backside as her bum of a boyfriend tries to get back on her good side. Can you say "epic fail?"
Killer Kiss-Off: "If you come around saying sorry to me, my daddy's gonna show you how sorry you'll be"
This tit-for-tat tantrum finds Taylor plotting to get even by dissing her ex's pickup truck, threatening to "out" him (in one version, anyway) and starting a fire using the stupid redneck's photos as kindling. Way to prove you're not obsessive and crazy!
Watch the 'Picture to Burn' Video
Killer Kiss-Off: "Well, now you say you're sorry, honey I agree"
If, as the saying goes, "living well is the best revenge," Dierks wants his cheatin' ex to know he's living very well, thank you. Crying tears of joy into his beer, partying with his friends, finally getting to lead when he's dancing. Aren't you're glad you asked?
Watch the 'How Am I Doin" Video
Killer Kiss-Off: "Someone's gonna do you like you done me honey / And when she does you like she'll do you, it ain't funny"
Patty points both barrels at her snake of a man, listing his seven (well, more like eight or nine) deadly sins as just cause for the inevitable bust-up. After "lyin', cheatin', cold, deadbeatin', two-timin', double-dealin', mean and mistreatin'," there's not much else to say, so she throws in the word 'lovin'.' And we all know what she's really saying … right?

Watch the 'Blame It on Your Heart' Video