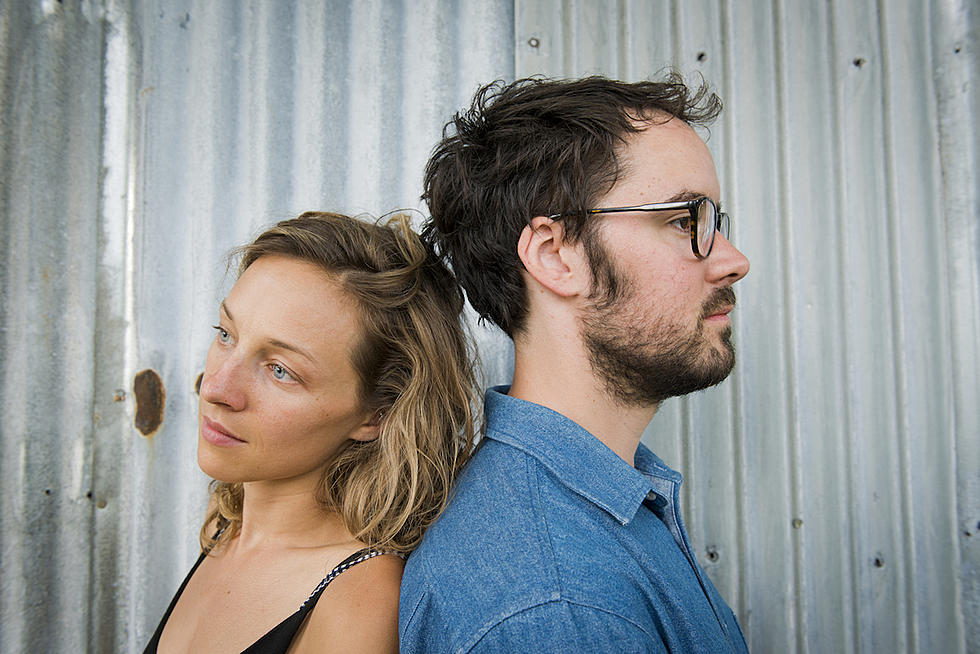 Mandolin Orange Interview: Emily Frantz Talks Singing Harmony, Processing Grief on 'Tides of a Teardrop'
Anthony Pidgeon/Redferns, Getty Images
Bluegrass / folk outfit Mandolin Orange's newest album, Tides of a Teardrop, chronicles the grieving process and unresolved emotions bandmate Andrew Marlin experienced after his mother died when he was 18 years old. However, the other half of the duo, Emily Frantz, says she didn't fully realize how prevalent that subject matter would be on the project until close to its completion.
""Golden Embers" is probably the tune that takes it by the horns the most, and it was written pretty early on ... but I don't think it was until most of the songs had been written and we started to think of them as a group that we realized it was more of a common thread that came up in a lot of these songs," Frantz recalls to The Boot.
Marlin is the group's primary songwriter, Frantz adds, so he might have known earlier than she did that the project would tackle the emotions around his mother's death so directly. However, while Tides of a Teardrop is the first time that Mandolin Orange have devoted so much of one creative project to excavating the depths of grief, previous records have explored the subject matter more abstractly.
"His grief has come through in so many of his songs, a lot more metaphorically," Frantz adds. "I think [on Tides of a Teardrop], he tried to just not shy away from it, and address it a little more directly."
Frantz and Marlin, who are married, became parents while they were creating their new album. Although many of Tides of a Teardrop's songs were written prior to the birth of the couple's child, Frantz says that parenthood shifted their perspective on the subject of grieving a parent's death.
"I think it's just shining new light on a lot of the material and giving a whole new, really powerful, perspective on the parent-child relationship," she continues. "It's definitely something we've given a lot more thought to in recent months."
Still, the album-making process put Frantz in the peculiar position of being one half of a duo whose project focuses specifically on the other member's experience. "It's an interesting question, because it is something that's so personal for Andrew," she admits, but adds that the dynamics of whose story the project is telling turned out to be a natural fit for how the band is structured.
"I think the musical roles that each of us play, it's somewhat compatible for that, because I like to play more of a supportive role, as someone who's not doing much of the songwriting and someone who likes to sing harmony more so than lead," Frantz explains. "It's always been what I've gravitated to: trying to complement the song as honestly as I can without taking too much ownership over it, necessarily. Unless it's something that Andrew really wants me to weigh in on."
Frantz pulls inspiration for her singing style from diverse traditions: Her first introduction to harmony came from traditional five-piece bluegrass singing. "What I first got introduced to was more traditional bluegrass, and the brother-sister harmonies -- like the Stanley Brothers, the Monroe Brothers, things like that, where it's a pretty straightforward harmony that's really simple," she says.
"But after that, I started to enjoy -- someone who I guess is really well-known for this would be Emmylou Harris. She has such a unique harmony style," Frantz goes on to say. "She doesn't stick necessarily to the tenor part, or the baritone part, or anything. She really jumps around, and can sing those dissonant notes that really make her voice jump out, but it's still somehow really complementary to whoever's singing lead.
"I'm thinking maybe specifically of Gram Parsons and Emmylou Harris," Frantz adds. "But she was someone who really broadened my idea of what harmony could be."
Mandolin Orange's 2016 record, Blindfaller, was, in many senses, the group's "breakout" album, introducing them to a whole new group of listeners. It was also the first project that they recorded with a full band. This time around, Frantz says, they've gotten comfortable performing and recording with the additional musicians, and they can't wait to take the new songs on the road.
"We've gained a ton of confidence," she relates. "When you're used to performing and touring just you and one other person, it takes a lot of concentration and stepping outside of your comfort zone to figure out how to play live with your band and feel comfortable with that sound onstage. We just toured a ton on [Blindfaller], and people really connected with songs, I think.
"Things just felt very engaged between us and the audience," she adds, "and that allowed us to really start owning what we were doing, and trusting it."