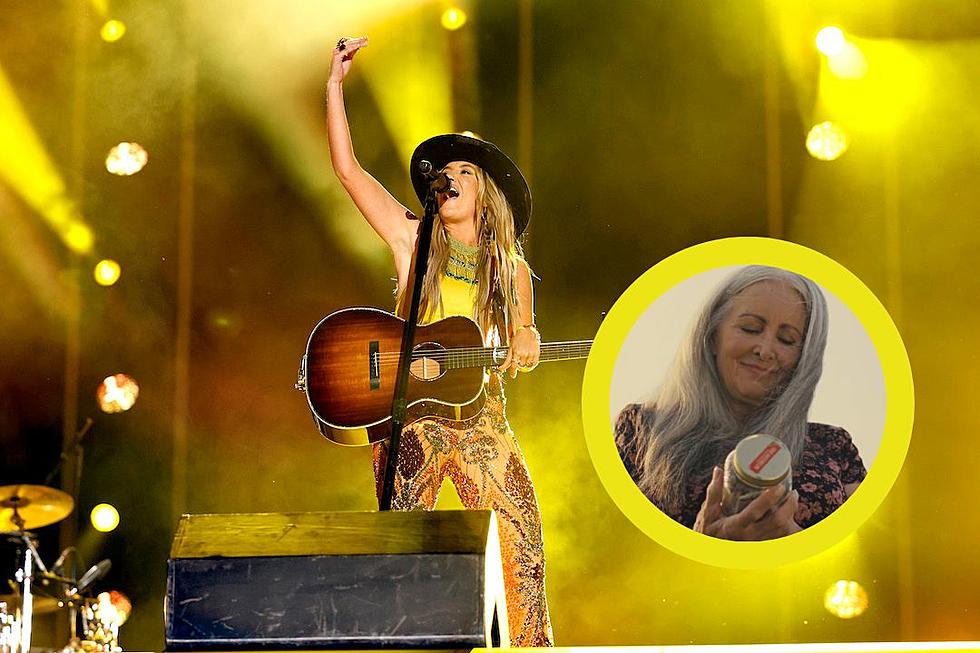 Lainey Wilson's 'Watermelon Moonshine' Video Unearths a Memory in a Mason Jar [Watch]
Jason Kempin, Getty Images/YouTube
Sweet summertime nostalgia overflows in Lainey Wilson's current single, "Watermelon Moonshine," and the song's newly-released video adds a visual component that's equally evocative.
In the clip, a gray-haired woman drives her truck out to a remote field and starts digging. She soon unearths a moonshine mason jar and smiles as she brushes the dust off, before the camera flashes back to a decades-old memory surrounding that same jar.
A teenaged version of the woman shares sips from of moonshine with a young man she meets at a barn party, then nearly locks lips with him during a game of spin the bottle — er, jar. But before they can share their first kiss, flashing lights outside break up the party, and the kids scatter and run from the cops.
Later on, the budding lovers reunite when the boy is hired as a farmhand by the girl's father, and they strike up a relationship, sneaking out to car backseats and empty barns to be alone together every chance they get.
Of course, young love doesn't usually last forever, and after burying a time capsule in the mason jar, the girl kisses her boyfriend goodbye and packs up her pickup truck to leave home.
At the end of the clip, the older version of the young girl unfolds a piece of paper inside the jar, revealing the words "Don't forget me." Amid that storyline, the video shows clips of Wilson performing "Watermelon Moonshine" in a dreamy, dusky field.
The couple in the video were played by actors Rachel Lynn Matthews and Sam Sherrod, and in a statement, Wilson says they perfectly conveyed the heady, intoxicating feeling of falling in love for the first time.
"From locking eyes for the first time, to playing spin the bottle with an Ole Smoky mason jar, to being too crazy about each other to tame it, I am so happy with how Rachel Lynn Matthews and Sam Sherrod brought the vision to life through their portrayal of their innocently passionate characters," the singer says.
"Watermelon Moonshine" comes off of Wilson's Bell Bottom Country album, and she also performed it as her Yellowstone character, Abby, on the show.
The Top 30 Country Songs About Regret, Ranked
No matter what side of the apology you're on, country music has plenty of songs about regret, remorse, apologizing and forgiving — or, in some cases, deciding not to forgive. Here are the Top 30 songs the genre has to offer on the topic.