Willie Nelson, Harry Connick, Jr. Christmas Duet Hits Big Screen; Little Big Town Hits No. 1 + More: Country Music News Roundup
Michael Buckner, Getty Images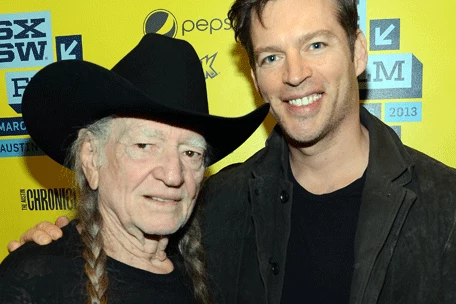 Michael Buckner, Getty Images
The Boot rounds up today's country music news from around the web.
Willie Nelson and Harry Connick, Jr., have teamed up to record a Christmas single to accompany their new holiday film, "When Angels Sing." The tune is heard in the closing credits of the movie, which made its world premiere Sunday night (March 10) at South by Southwest in Austin, Texas, where the film is set. Also starring "Nashville"'s Connie Britton, along with Lyle Lovett and Kris Kristofferson, the family film has many of the cast members performing Christmas songs on camera. Given the option of singing one of their own Christmas compositions or one from a list of festive favorites, Kris chose to sing Willie's holiday classic, "Pretty Paper." See the film's trailer here.
Julie Roberts is set to make her performance debut at SXSW in Austin on Saturday, March 16. The singer will be part of a showcase at Rebels Honky Tonk, which will also feature Blue Sky Riders, Chip Taylor and more. Her 50-minute set will begin at 1:00 AM. On Friday, March 15, Julie will participate in an Unofficial SXSW Day Party at the Easy Beat. Beginning at 1:00 PM, the party also features performances from Sixpence None the Richer's Leigh Nash and the CO. For our sister site, Spinner's best SXSW advice, click here.

Billy Ray Cyrus, Cyndi Lauper and Don McLean are the latest additions to the already star-studded final Nashville concert by George Jones, set for Bridgestone Arena on Nov. 22. "Billy Ray is an old friend and someone I have spent many times together, bless his heart for wanting to be with me on this show," says the legendary entertainer, adding, "People may not know this, but I have been a fan of Cyndi's since I first saw her years ago at the Grammy awards. What a thrill it was to hear she will be part of this final celebration. Don McLean and I first met in the '70s, here in Nashville, and I love his singing, his songwriting and I know his performance will be just as special as when I first saw him sing. I love and respect all these singers."
Little Big Town has scored their second consecutive No. 1 single, as "Tornado" tops this week's Mediabase chart and follows in the footsteps of their very first chart-topper, "Pontoon." Although fans are reacting positively to the tune and its accompanying video, starring actor Jonathan Schaech ("That Thing You Do"), the group's kids aren't as enthusiastic about it. "It's scary, and I will have to say compared to 'Pontoon' -- our children loved watching the 'Pontoon' video," says Karen Fairchild. "This one, the fans seem to love, but our kiddies don't like to watch this one that much." Adds Karen's husband, Jimi Westbrook, "It's a little dark." (Watch the video below.)
Andrea Vellinga, one of the surviving victims of the August 2011 Indiana State Fair stage rigging collapse that took place just before Sugarland was set to take the stage, has since had three attempted surgeries to replace the missing portion of her skull, which was crushed in the accident. Finally, doctors were successful, using skin expanders to stretch her scalp. Every two weeks for four months, those expanders were filled with saline, a process she described as very painful but worth it. "I feel really good," she said following a speech therapy session at the Rehabilitation Hospital of Indiana. "People ask me how I am so strong; I get my strength from my mom. She has been so strong through all of this." [WISH-TV]
Carrie Underwood, who celebrated her 30th birthday Sunday, March 10, got a special birthday gift from fans all over the world, thanks to a couple of superfans. Jake Updegraff and Alex Kirk created a clip comprised of fans sending well-wishes to the country-pop superstar. Fans from the U.S., and as far away as Brazil, the U.K. and Australia all recorded messages, including a country duo called Two Story Road, which features Carrie's former backup singer Jamelle Fraley. Watch the clip here.
"History of the Eagles," the acclaimed documentary chronicling the iconic band, will be released on DVD and Blu-ray on April 30. The three-disc set includes the two-part "History of the Eagles," as well as "Eagles Live at the Capital Centre -- March 1977," featuring never-before-released performances from the country-rock group during the Hotel California tour. The compilation is now available for pre-order here and at the band's official website.