Tyler Farr Off to a 'Hot' Start in Country (VIDEO)
BNA Records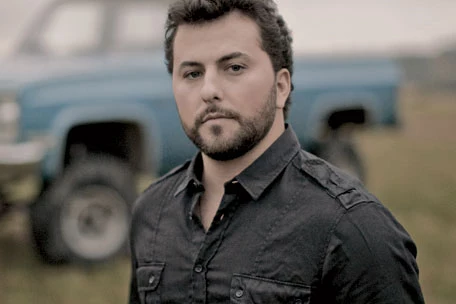 BNA Records
Tyler Farr remembers vividly the pivotal moment when he realized he wanted to make country music for a living: when he saw George Jones sing "Who's Gonna Fill Their Shoes" live in concert.
"I got goose bumps," Tyler recalls of the performance, which was complimented by images of Hank Williams, Lefty Frizzell, Elvis Presley and Vern Gosdin on the big screen behind the Possom. "I started wearing out country gold from that point on."
That was back when Tyler was a teenager, living in a tiny farm community in Missouri. His mother had just married DeWayne Phillips, George Jones' lead guitarist who recognized his new stepson belonged up on that stage, as well.
Watch "Meet Tyler Farr"

Fast forward a few years -- and a lot of small-town shows and talent contests -- later, and Tyler moved to Nashville to pursue his dreams. He took a job landscaping to pay the bills and another job at one of George's old haunts, the legendary Tootsie's Orchid Lounge, where the budding young singer did everything from flipping burgers to playing guitar.
"After I'd sung a few times at Tootsie's, they said, 'We need to get you your own show here.' Two months later, I'm playing three or four nights a week," Tyler recalls. "I loved the whole feel of the honky-tonk. I was like, 'Man, I should've been born here. This is what I should have been doing since I was ten.' I ate it up."
Tyler eventually made enough money to make his own album, which landed in the hands of one of Nashville's most successful songwriters today, Rhett Akins, who helped record some new material for the project and began pitching his new friend to Nashville label heads. After a Sony Music executive heard Tyler sing at an event in Nashville, a publishing deal and record deal weren't far behind.
Fans will hear for themselves all of the blood, sweat and tears that led to that record deal when Tyler's debut album on BNA Records is released in the coming months. The first taste of the project is "Hot Mess," a clever tune that changes its namesake expression into something sexy. Tyler explains that the song shows just one of the many facets of his musical style, which he modeled after listening to everyone from MC Hammer to, of course, George Jones.
"I wanted to make an album you could take anywhere, and I can take this one to a barn party on a back road and have everybody rock out, and at the same time kids can enjoy it and dance to it," he says, adding with a laugh, "and I could play it for my grandma! I wanted everybody to be able to listen to it, and I think we accomplished that."
But as proud as he is of the new music, Tyler has two feet planted on the ground. Becoming a famous singer-songwriter is something he has dreamed of since a teen, but not because of the fame.
"I am going to be one of those artists who's in it for the fans," he insists. "I'm the guy that's gonna come out and drink a beer with you after the show. I don't know how many times I've almost not gotten into my own show because I look like the people who are coming to watch! I'm just like my fans, and that's the way I like it."