Turnpike Troubadours, 'Goodbye Normal Street' Showcases Unique Musicianship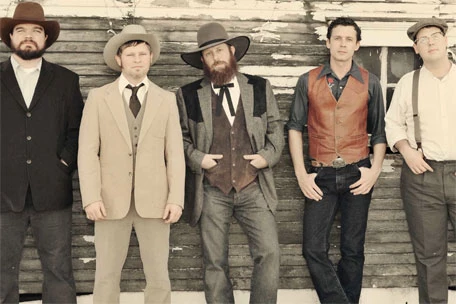 When a band puts on a killer live show, the intricacies of their music don't always translate to a recorded album. Not so with the Turnpike Troubadours. One listen to their brand-new CD, Goodbye Normal Street and you see why the band's barroom success has led to major commercial appeal. (Listen to the full CD for free here.)
The five accomplished musicians who make up Turnpike Troubadours have certainly lived up to their name, gaining a huge fan following by tirelessly touring the so-called 'Red Dirt' circuits of the Southwest.
"When we first started playing, people couldn't have cared less that we were there," recalls frontman Evan Felker. "They were there to drink beer and raise hell and they didn't really care what music was playing while they did it. But as we went on and as we got better, they started to listen. I mean, they were still drinking plenty of beer, but before too long, they were actually coming to hear us and asking us to play our songs, and not just covers of traditional favorites."
With influences that range from country and bluegrass to hard rock and even Creole music, the quintet has developed a unique sound that blends furious finger-pickin' with insightful, relatable and sometimes defiant lyrics. Goodbye Normal Street, which hits stores today (May 8), is the Troubadours' third full-length album.
"This time around, we tried to balance things out," says bassist RC Edwards. "We wanted to combine the idea of getting something perfect, the way you can only do in a proper studio, with the energy of playing in front of a thousand people jumping around and screaming."
"All the songs are about people we know," adds Evan. "And yeah, some of them are probably about me to some degree -– the guy who ticks off the wrong girl from Arkansas, and the guy who doesn't always like what he sees himself becoming. Mostly though, I think they're just honest … This music, at its best, can put into words what we have been thinking for our entire lives."