Trace Adkins' New Album Breaks Down Genre Barriers
Cindy Ord, Getty Images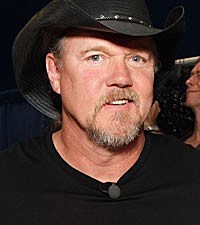 Cindy Ord, Getty Images
Trace Adkins' new album, Love Will..., is only a few weeks from its release date, and the country music hitmaker couldn't be more anxious to share it with fans. The Louisiana native reached out to several of his musical friends to join him on the upcoming CD, including pop singing sensation Colbie Cailat, who sings with him on the emotionally-charged "Watch the World End."
"It wasn't the genre thing that caused Colbie Cailat to be on this song," Trace explains to The Boot. "It was the sultry nature and that thing that she has in her voice. That's what I wanted on that song. I thought that her voice would blend well with mine, and I just loved that really sexy thing that she has in her vocal. That's what I wanted. I didn't care what genre of music she's in. I'm in love with her voice. I'm really happy that she agreed to do it. She's a lot of fun."
Love Will... also includes an appearance by Exile, who joins the 51-year-old on their own hit, "Kiss You All Over." "That was a surreal day in the studio," Trace reports. "Being in there with guys that most of my afternoons, my senior year of high school after football practice, were spent in the drive in, shooting pool and playing 'Kiss You All Over,' and listening to that song play at least half a dozen times in the afternoon at the drive-in. That was a surreal experience to go in the studio with those guys."
Love Will..., which also features a song by the Harlem Gospel Choir, will be released on May 14. The "Celebrity Apprentice" contestant will play several shows over the next few weeks, including stops in Texas, Missouri and New Hampshire.