Toby Keith USO Tours Hit Ten-Year Mark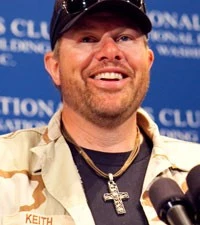 Toby Keith has been an avid and outspoken supporter of the U.S. military, traveling all over the globe for several USO tours to entertain the troops. Now, as he gets ready to head overseas again to perform for service men and women, the singer-songwriter is preparing to celebrate a USO milestone as well.
"We should surpass 200 shows, 10 years, our tenth-year anniversary," Toby says (quote via the Country Vibe). "At some point I'm going to put something together and show everybody what a wonderful ten years, it's been a trip, and show you some wonderful warriors and heroes."
The Oklahoma native can't reveal the exact itinerary of the upcoming trip for safety reasons, but does share a few details. "We don't go to Iraq anymore. Iraq's over for us," explains the country superstar. "We do a week in Afghanistan and then I think we do a week in Kuwait, Bahrain and we've started hitting aircraft carriers and doing a big show for 5,000 a night on the aircraft carrier and then flying helicopters off the battleships and doing little two-man shows during the day."
Toby has personal reasons for making the USO tours a priority. "My father was a veteran, and [in 2002] I wanted to go pay my respects and honor all the troops that were overseas fighting in different conflicts," Toby explained to The Boot. "I got over there and fell in love with it."
While the official dates for his USO tour haven't been announced, we do know he will kick off his Live in Overdrive tour on June 14 in Salt Lake City, with Brantley Gilbert serving as his opening act. See his complete tour schedule here.
Watch Toby Talk About His USO Tours