Toby Keith Accused of Refusing to Sign Guitar for Charity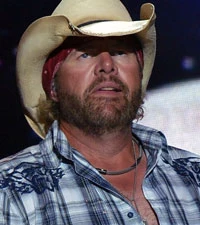 Toby Keith has found himself in hot water with an event organizer after a Nebraska tour stop on June 22. The country superstar, whose long list of charitable efforts includes building OK Kids Korral in his home state of Oklahoma to aid pediatric cancer patients and their families, is being accused, by a company called Creative Adventures, of denying a request to sign a guitar backstage during the Nebraskaland Days concert in North Platte, Neb. A spokesman says the guitar was to be signed to benefit St. Jude Children's Research Hospital.
"One of the radio station program directors got meet-and-greets and permission to get a guitar signed for St. Jude's 2013 radio fundraiser," Joel Bieschke, vice-president of Creative Adventures tells Radaronline. "People donate to win a guitar signed by their favorite artist on the air and the money goes to help the children at St. Jude. But when we got face-to-face with Toby in the meet-and-greet line, he refused to sign the guitar and his crew told us to leave or else they were going to call security. It would have taken him 10 seconds to sign that guitar to help raise money for children who are terminally ill. I'd like to think he was not that type of guy."
Toby's road manager, David Milam, refutes the allegations, saying, "I know of no requests like that at that show. If it was asked of us for Toby to sign something for St. Jude or any other legitimate charity, we always do so. For them to think that Toby would disregard a great charity like St. Jude, when he has his own foundation that supports and has the same goals, is just stupid."
Toby has yet to publicly comment on the incident, but in 2011 the philanthropic singer told The Boot, "I'm proud to be able to affect the lives I've affected, most in the private sector, and with charities like St. Jude, Ally's House, the USO and OK Kids Korral."
Toby recently had gallbladder surgery, but didn't spend much time recuperating. He'll resume his tour tomorrow night (Aug. 3) at the WE Fest in Detroit Lakes, Minn. Keep track of his tour schedule here.
Watch Toby Keith Talk About His USO Tour
#fivemin-widget-blogsmith-image-951495{display:none;} .cke_show_borders #fivemin-widget-blogsmith-image-951495, #postcontentcontainer #fivemin-widget-blogsmith-image-951495{width:570px;height:411px;display:block;}

try{document.getElementById("fivemin-widget-blogsmith-image-951495″).style.display="none";}catch(e){}
Watch the Video for Toby's "Red Solo Cup"