Toby Keith Radio Popularity Makes Singer a 'Million-Air'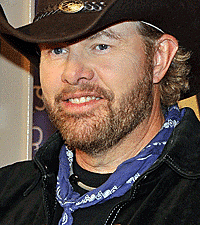 Toby Keith has often said that awards for his songwriting mean the most. The country superstar received more of those honors this week when he was recognized by performance rights organization Broadcast Music Inc. (BMI) for several of his songs reaching more than 15 million airplays, including "How Do You Like Me Now," "Beer for My Horses," "She Never Cried in Front of Me," "God Love Her," "I Love This Bar" and "Who's Your Daddy."
This honor, known as the Million-air award, goes to songwriters, composers and publishers whose songs have had more than one million U.S. broadcast performances. Toby's awards were for both his songwriting and publishing endeavors.
"If you went back to the first pickup I had, there were three boxes of cassettes in there," Toby explains to The Boot of his love for songwriting. "There were probably 90 albums, and you would find seven or eight Willie Nelson and Merle Haggard, four or five Charlie Daniels, some Roger Miller, Billy Joel, KISS, Elton John, Bob Seger, Hoyt Axton, Johnny Cash, the Eagles, Dolly Parton. As you look through that box at the music I listened to, the common denominator was that they were all singer/songwriters.
"I didn't set out to not buy the great stylists like George Strait, Travis Tritt, Conway Twitty, Elvis … but subconsciously, I just gravitated toward singer/songwriters. I was more impressed and amazed and a bigger fan of those who wrote songs, no matter how famous they were. Those guys didn't get me going like a Hoyt Axton or somebody who wasn't as famous. Hoyt was amazing. There was a time when Willie wasn't famous, but he wrote "Crazy." I think that early bond to that element … it was just some connection to people who express themselves through creative writing. It connected with me and I've never got very far from it."
Toby has reached more than 80 million airplays with songs he has written, according to Clay Bradley, BMI assistant vice president of writer/publisher relations. "We have been honored to work with him since early in his career, and he shows no signs of stopping now."
The BMI "Million-Air" Award is a mark of respect and praise for the longevity and resilience of a songwriter's music. One million continuous performances of a song of the average length of 3 minutes represents 5.7 years of continuous airplay. The 80 million performances represents 456 years of continuous airplay for Toby.
Watch Toby Keith's 'Hope on the Rocks' Video