13 Years Ago: Toby Keith Hits No. 1 With 'Courtesy of the Red, White and Blue'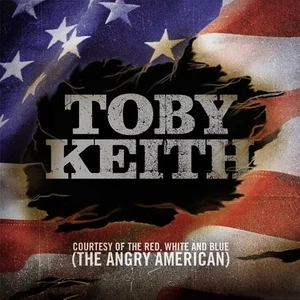 Thirteen years ago today (July 20, 2002), Toby Keith earned his ninth No. 1 single with his tune "Courtesy of the Red, White and Blue (The Angry American)."
Keith wrote the song in late 2001, as a response to the 9/11 terrorist attacks and also as a tribute to his father, Hubert Covel, who was killed in a car accident in March of that year. The tune, which Keith says he wrote in about 20 minutes, was the debut single from Keith's multi-platinum No. 1 album Unleashed.
Keith says that "Courtesy of the Red, White and Blue," which also peaked at No. 25 on the Billboard 100 chart, was originally only written for him to play for the troops overseas, before he had a change of heart.
"It wasn't written for everybody," the Oklahoma native tells CBS News. "And when you write something from your heart — I had a dad that was a veteran, taught me how precious our freedom is — I was so angry when we were attacked here on American soil that it leaked out of me. You know, some people wept when they heard it. Some people got goosebumps. Some people were emotionally moved. Some cheered, turned their fists in the air."
"Courtesy of the Red, White and Blue" wasn't well received by everyone, however: Keith was removed from the lineup for a patriotic TV show on ABC when he refused to either soften the lyrics or choose another song with which to open the televised special. But the biggest controversy surrounding the song came from the Dixie Chicks, when lead singer Natalie Maines spoke out publicly against the track's lyrical content.
"I hate it," Maines said. "It's ignorant, and it makes country music sound ignorant. It targets an entire culture — and not just the bad people who did bad things. You've got to have some tact. Anybody can write, 'We'll put a boot in your ass.'"
Keith responded by showing a backdrop of Maines edited into a picture with Saddam Hussein during his concerts, while Maines countered by wearing a T-shirt that said "FUTK" at the 2003 ACM Awards.
Controversy aside, "Courtesy of the Red, White and Blue" is one of the biggest hits of Keith's career. It was certified gold, signifying sales in excess of 500,000 units, and helped his Unleashed album earn the American Music Award for Favorite Country Album. It also helped score Keith an ACM Award for Entertainer of the Year in 2002.
Download "Courtesy of the Red, White and Blue" here.
Toby Keith Names His Most Important Songs
Learn These Country Stars' Real Names