Toby Keith, 'American Idol': Superstar Turned Down Reality Show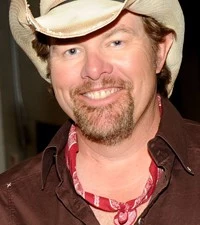 Has Toby Keith been asked to fill one of the open judges slots on "American Idol"? The answer is yes! However, you won't be seeing the "I Like Girls Who Drink Beer" singer sitting next to Mariah Carey on the reality show next season. "Toby was very flattered but he turned 'American Idol' down," his publicist confirmed to The Boot.
Toby isn't the only country singer linked to the singing competition's 12th season. Earlier this week, reports surfaced that producers were "seriously considering" Brad Paisley. According to the "Camouflage" singer's representative, there's no "information to share" at this point.
While there are two slots open after the departure of both Steven Tyler and Jennifer Lopez, it seems the "American Idol" folks are wishing to expand to the country genre. It could be a logical move for the show, which has produced numerous country singers, including Carrie Underwood, Scotty McCreery, Lauren Alaina, Kellie Pickler, Josh Gracin and Bucky Covington, among others.
As for Toby, he's hard at work on his 16th studio album. "[I have] about 14 or 15 things recorded," Toby tells Billboard.com. "I don't really know what 10 or 11 [songs] are going to make the album yet. I just go in and get a good vocal on everything and then I'll start seeing which three or four gravitate to the top and I'll start building the core of my album right there, and then I'll fill in what I don't have."
Watch the Video for Toby's "Red Solo Cup"