Tim McGraw: Tour Crew Is 'Working Their Butts Off'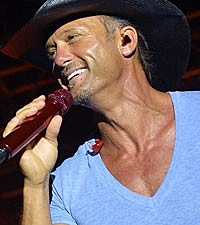 Tim McGraw is spending his summer crossing the country with his good friend, Kenny Chesney, on their Brothers of the Sun tour. But while the entertainer says their schedule might be challenging for the next few months, he admits that the 283 people who work behind the scenes have it much, much worse.
"It's pretty big," Tim tells Nashville's Tennessean. "It's a pretty heavy travel schedule for those guys. It's not a heavy travel schedule for Kenny and I because it's Saturdays and Sundays for the most part, but the crew are working their butts off on this."
The tour, which includes 20 buses and more than 80 tractor-trailers covering almost 20,000 miles in travel, took plenty of planning and coordinating. While Tim acknowledges that their own personnel did much of the work, he and Kenny also hashed out a few details themselves, mostly in New Orleans over football games. But one aspect of the show that could have been a major bone of contention — choosing which of the two superstars would close the show — was a surprisingly easy decision.
"For me, that wasn't a difficulty at all," Tim notes. "Kenny has gone out and done this kind of tour for years, and it just made sense that I would go first."
Tim, who recently joined the Big Machine Label Group after settling a legal battle with his former label, Curb Records, is hard at work on his first album for the label.
Keep track of all of the Brothers of the Sun tour dates here.
Tim McGraw and Kenny Chesney's Summer Tour