Tim McGraw Comic Book to Hit Shelves in September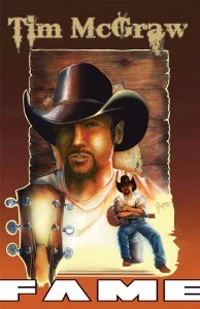 Tim McGraw is a singer, songwriter, actor — and now, comic book hero. The 45-year-old country icon is the latest celebrity to have his own biographical comic book issued by Bluewater Productions. Tim's story is part of the Fame series, which has previously covered the lives of Taylor Swift, Lady Gaga, Justin Bieber, Demi Lovato and several others in comic-book form. (However, the artists themselves are not involved in the making of the comics, nor do they endorse them.)
"It was fun to do," author David A. McIntee says of working on the country superstar's life story (quote via comicbook.com). "Tim has had a wider career and area of interest than people might think. I loved the chance to do something with a hint of the Western, to go with the musical genre. I think his fans will enjoy that tone to it."
Tim's comic book is expected to hit shelves next month.
Back in the real world, Tim is set to begin a series of shows with wife Faith Hill at the Venetian hotel in Las Vegas in December.
"We're excited about building this show from the ground up," Tim said. "This show is all about us together."
Before he can finalize plans for the Vegas gig, Tim will wrap up the Brothers of the Sun tour with Kenny Chesney. The men, who just celebrated ticket sales exceeding one million, head to New Jersey and Maryland this weekend. See a list of the remaining tour dates here.
Watch Tim & Faith's Big Vegas News
#fivemin-widget-blogsmith-image-710729{display:none;} .cke_show_borders #fivemin-widget-blogsmith-image-710729, #postcontentcontainer #fivemin-widget-blogsmith-image-710729{width:570px;height:411px;display:block;}

try{document.getElementById("fivemin-widget-blogsmith-image-710729″).style.display="none";}catch(e){}