The Band Perry, Kimberly Williams-Paisley Help Kick Off Walmart Anti-Hunger Campaign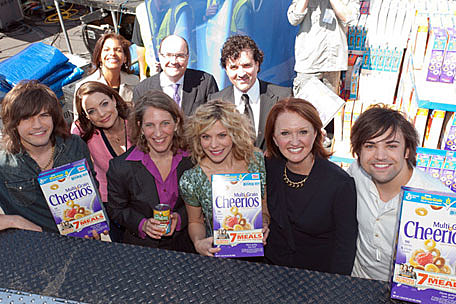 The Band Perry and Kimberly Williams-Paisley visited a Nashville Walmart this week to announce their participation in a huge new initiative to help fight hunger in America. The sibling singers and actress are partnering with Walmart and four of the nation's largest food companies — General Mills, ConAgra, Kraft, and Kellogg — to launch the "Fighting Hunger Together" program, which encourages the purchase of products to help generate more than 42 million meals for the Feeding America and Action for Healthy Kids programs.
Millions of Americans can help support this worthy cause either by buying participating products or visiting Walmart's Facebook page through April 30. Fans can vote on the Facebook page for one of 200 American communities that has been hardest hit by unemployment, and the winning town will receive $1 million to help combat hunger in that area. The next 20 communities will each receive $50,000 to help aid hunger relief in their areas, as well, through the Facebook initiative. The campaign also provides information on how users can donate or join local efforts to fight hunger in their own communities.
In 2010, Walmart made a five-year, $2 billion commitment to help combat hunger in the United States, pledging to donate more than 1.1 billion pounds of food from its stores, distribution centers, and Sam's Club locations, as well as $250 million in grants to relief organizations. The company launched the initiative this spring, a fitting season in that it is traditionally a time when donations to food banks decrease, leaving them unable to meet the needs of the nearly 49 million Americans who will experience uncertainty about where their next meal will come from at some point this year. For more information on the initiative, check out Walmart's Facebook page at www.facebook.com/walmart.
The Band Perry returns to the road soon with Kimberly's hubby Brad Paisley as part of his Virtual Reality tour, and will appear on tonight's "ACM Presents: Lionel Richie and Friends – In Concert" on CBS. The country trio collaborates with the music legend on his classic "Penny Lover" on the show. When that song was chosen for the Band Perry, Lionel told the siblings a great story about how its original version almost sounded a lot different.
"There's a little trick songwriters use when composing a tune — we'll use dummy lyrics," explains Kimberly. "Lionel told us when he wrote this song, he thought the lyrics were dummy lyrics until a deejay urged him to stick with the original lyrics!"
"Tuskegee," Lionel Richie's new CD of his classic hits turned into country duets, debuted at No. 1 on the Billboard Country Albums chart its first week of release — his highest-charting album since 1986. While the Band Perry is not featured on this collection, plans for a "part 2″ of "Tuskegee" are already in place, and we have a feeling Lionel will tap the talented trio for a track on that one.
Watch the Band Perry's 'All Your Life' Video