Glen Campbell's Oldest Children Help Create Tennessee Law to Protect Visitation Rights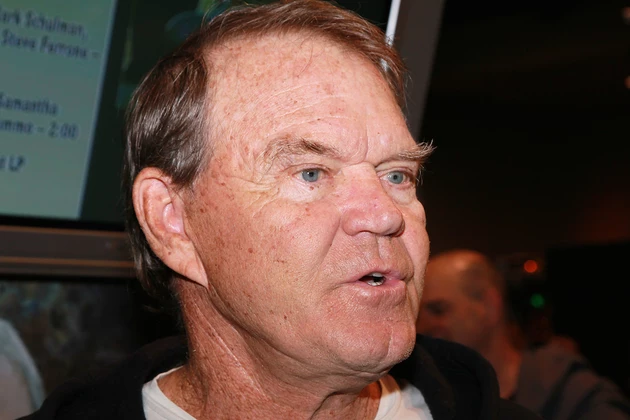 Glen Campbell's oldest children, Debby Campbell-Cloyd and Travis Campbell, have been battling with their stepmother, Kim Campbell, for visitation rights for more than a year, and on May 16, Tennessee Gov. Bill Haslam signed into effect a bill that works in their favor.
The new law, called the Campbell / Falk Act, allows family and close friends of a person with Alzheimer's disease, dementia or other disabilities to visit with their loved one in person, on the phone or via email or mail, despite a conservator's (legally appointed guardian) opinion. If the person, like Campbell, cannot communicate, their prior relationship with the visitor presumes consent, Rolling Stone reports. Previously, in Tennessee, only the conservator was allowed to determine visitation rights for family members; with the Campbell / Falk Act, court intervention will be required in order to place such restrictions.
"We are very pleased that this new law has been enacted," Senator Rusty Crowe say (quote via KnoxBlogs). "It is heartbreaking to hear [about] sons and daughters who cannot spend quality time with their parent after they are incapacitated and their health is in decline. We believe this new law strikes the right balance so that it protects the rights of some of our most vulnerable citizens, while at the same time giving the conservator a fair process to follow in protecting the ward."
According to Campbell-Cloyd and Campbell's petition in March of 2015, several of Glen Campbell's eight children were not on an approved visitation list, meaning that they were unable to spend time with their father.
"If this can happen to Glen Campbell, it can happen to anyone," says Trudy Campbell, Travis Campbell's wife. "It is a civil right and certainly a God-given right to see your child and to receive mail from them … We know that thousands of others are suffering from restrictive action by a ward, and we are very pleased that Tennessee has passed this law to protect them."
The Campbell / Falk Act was named for Campbell and Emmy Award-winning actor Peter Falk, whose daughter claims that her stepmother tried to prevent her from seeing her father and, when he passed away in 2011, did not tell her about his death or funeral. Family of both Campbell and Falk, as well as Tanya Tucker, were in attendance for the signing at the Tennessee Capitol.
Though Campbell's children can now visit their father freely, Kim Campbell has the right to petition the court for restrictions if she can show just cause. However, Ashley Campbell told Rolling Stone last year, "No family member has ever been denied a visit to my dad. Sometimes we have restrictions as far as for his privacy and safety, like restricting photos taken or items brought in, but no family member has ever been denied."
She added, "We have some family members who don't understand the disease and what he's going through and like to make a fuss. What they don't know is what they're doing is a disservice to their dad and to people with Alzheimer's everywhere and their families dealing with it."
See Glen Campbell + Other Country Stars' Yearbook Pictures