Taylor Swift Webcast Sends Her Back to School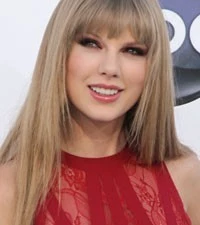 Taylor Swift has long been an avid reader and now she's passing on her enthusiasm for reading by making a virtual return to schoolrooms. On Oct. 24, the superstar entertainer will participate in a live webcast with classrooms all across America. During the webcast, sponsored by Scholastic, the singer-songwriter will share her thoughts on the importance of reading and how literature has inspired her. Taylor will also take questions from students and perform a song from her upcoming CD, Red.
The 30-minute event, Read Every Day, will be hosted by MTV correspondent Sway Calloway. The live webcast take places at 2:00 PM ET, with a video replay available at 4:00 PM ET. Schools interested in participating in Read Every Day can find more information here.
The live webcast comes two days after the release of Red — a 16-song collection the songstress says sums up her life the past few years.
"Thinking about what that means to me and all the different emotions that are written about on this album — they're all pretty much about the tumultuous, crazy, insane, intense, semi-toxic relationships that I've experienced in the last two years," Taylor notes. "All those emotions — spanning from intense love, intense frustration, jealousy, confusion — in my mind, all those emotions are red. There's nothing in between; there is nothing beige about any of those feelings."
The Read Every Day campaign is just the latest initiative undertaken by the bibliophage (avid reader of books). Taylor also donated books to the Nashville Public library, as well as to libraries in her hometown of Reading, Pa. ("Reading," by the way, is a capitonym — a word which is spelled the same but means something else — and is often pronounced differently — when capitalized.)
Watch a Video on Taylor's Record-Breaking New Song
#fivemin-widget-blogsmith-image-680175{display:none;} .cke_show_borders #fivemin-widget-blogsmith-image-680175, #postcontentcontainer #fivemin-widget-blogsmith-image-680175{width:570px;height:411px;display:block;}

try{document.getElementById("fivemin-widget-blogsmith-image-680175″).style.display="none";}catch(e){}