Taylor Swift, T.I. Duet: New Video Reveals First Meeting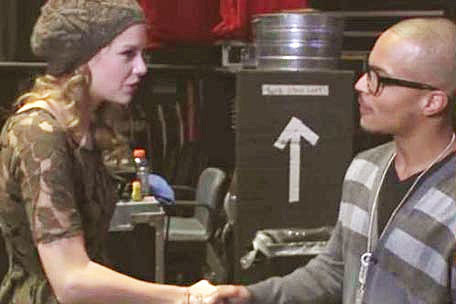 As reported by AOL Music,
Taylor Swift
became "T-Sweezy" for a night during her
Speak Now tour
stop in Atlanta back in October. The 21-year-old singer surprised screaming fans when she brought rapper
T.I.
on stage for a duet of his hit,
'Live Your Life
.' Now, footage from the hip-hop star's new
VH1 reality show, 'T.I. & Tiny: The Family Hustle,'
has revealed the making of the epic stage collaboration with scenes we'll just call "
When Taylor met T.I.
"
After his release from an 11-month prison stay just days earlier, the rap superstar caused chaos when he stepped out onto the stage in his hometown during the country superstar's Atlanta show. But no one was more surprised by the unlikely duet than T.I. himself!
"As a dinosaur in this industry, to have the leader of such a young audience call me and consider me to even come out there, that was flattering," the rapper told his reality show confessional cameras.
"This is so huge that you came out here," Taylor told T.I.
"It's huge that you would even consider the old man!" he humbly replied. Check out the footage for their meeting below.
Watch Taylor Swift and T.I. on 'T.I. & Tiny: The Family Hustle'
Watch More on Taylor's Speak Now World Tour