Taylor Swift to Play Joni Mitchell in 'Girls Like Us' Film?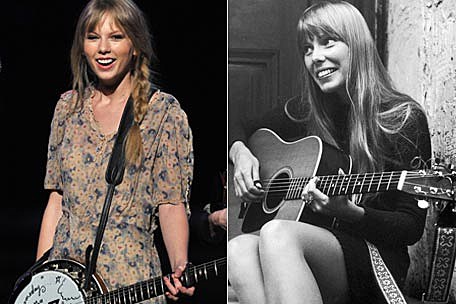 Taylor Swift is reportedly being considered to portray music legend Joni Mitchell in "Girls Like Us," the big-screen adaptation of the book by Shelia Weller, which examines the life of the "Both Sides Now" writer, along with fellow singer-songwriters Carole King and Carly Simon.
Variety reports that although Taylor does not have an official offer on the table, she has been linked to the role of the Canadian-born performer for several months as other actresses have auditioned to play the other two leads in the film. "House" executive producer Katie Jacobs, who optioned the book several years ago, is directing from a script by John Sayles. While not officially "greenlit" yet, the film is tentatively scheduled to start production later this year when the three leads would be available for filming.
Earlier this year, Taylor was rumored to be joining the cast in the big-screen adaptation of "Les Miserable," although the role of Eponine ultimately went to Samantha Barks. Taylor made her film debut in 2010's "Valentine's Day" and voiced the part of Audrey in this year's "The Lorax," based on a story by Dr. Seuss.
The globally-recognized entertainer has expressed an interest in more film work and says she spends much of her time off reading scripts. But for the 22-year-old, there's more to the process than just being offered a role.
"Acting is something I've been fascinated by my entire life," Taylor tells MTV, adding that she would have to have the right part to consider taking a hiatus from her music career. "I would want to have the time, the ability and the love for something, the love for a character to where I could really make that commitment to it."
Regardless of when we'll next see Taylor on the big screen, she can currently be heard on the soundtrack to the blockbuster film, "The Hunger Games."
Watch Taylor Swift on 'Ellen'
#fivemin-widget-blogsmith-image-865674{display:none;} .cke_show_borders #fivemin-widget-blogsmith-image-865674, #postcontentcontainer #fivemin-widget-blogsmith-image-865674{width:570px;height:411px;display:block;}