Taylor Swift Among 'Most Dangerous' Celebrities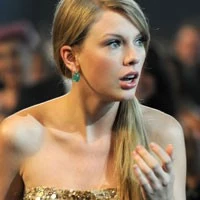 Cybercriminals have Taylor Swift and a host of other high-profile celebs in their sights, according to McAfee's list of 2012's most dangerous celebrities to search for online. The "We Are Never Ever Getting Back Together" singer lands at No. 15 on the list, which is topped by "Harry Potter" actress Emma Watson, who replaces Heidi Klum. The supermodel led the list in 2011, according to McAfee, the world's largest dedicated security technology company.
Cybercriminals follow the latest trends and often use the names of popular celebrities to lure people to sites that are actually laden with malicious software designed to steal passwords and personal information. Anyone looking for the latest videos or files to download could end up with a malware-ridden computer along with the trendy content. This year, searching for a celebrity name with "free downloads" and "nude pictures" as part of the search term resulted in the highest result of risky sites.
Searching for celebrity women is clearly far more dangerous than men, since only one male, late-night talk show host Jimmy Kimmel, made the Top 20 (No. 13).
Other musicians who placed in the Top 10 were Taylor's pal Selena Gomez (No. 4) and global superstar Shakira (No. 7).
According to the McAfee study, now in its sixth year, searches for Emma Watson pictures and downloads yields more than a 12.6 percent chance of landing on a website that has tested positive for online threats, such as spyware, adware, spam, phishing, viruses and other malware.
Online searches for Taylor will likely increase throughout the next few months, with the impending release of Red, which will be out Oct. 22.
Watch a Video on Taylor's Record-Breaking New Song
#fivemin-widget-blogsmith-image-680175{display:none;} .cke_show_borders #fivemin-widget-blogsmith-image-680175, #postcontentcontainer #fivemin-widget-blogsmith-image-680175{width:570px;height:411px;display:block;}

try{document.getElementById("fivemin-widget-blogsmith-image-680175″).style.display="none";}catch(e){}