Taylor Swift Is Lucky No. 7 on Forbes Celebrity 100 List
Rick Diamond, Getty Images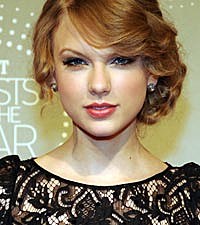 Rick Diamond, Getty Images
Earnings, power, influence and social media popularity -- those are four main qualifications for Forbes' annual Celebrity 100 list, and four things Taylor Swift certainly has in abundance. The country superstar ranks No. 7 on this year's list, jumping up five spots from her No. 12 ranking on the 2010 list.
Pop phenom Lady Gaga stakes claim to Forbes' No. 1 ranking, bumping Oprah Winfrey -- who's topped the list four times in the last seven years -- down to the runner-up position. Gaga has earned $90 million on her current tour, has 32 million Facebook fans and is the first person in the world to top 10 million followers on Twitter. The Forbes news comes just a few days before the singer releases her highly-anticipated sophomore album, 'Born This Way,' due in stores May 23.
Musicians rule the Forbes' list, taking six of the Top 10 spots. Just behind Oprah is pop prince Justin Bieber at No. 3, followed by rock legends U2. Sir Elton John is No. 5, trailed by golfer Tiger Woods, Taylor, rockers Bon Jovi, 'X Factor' judge Simon Cowell and basketball star LeBron James.
Other country stars gracing the Forbes Celebrity 100 are Brad Paisley at No. 48, Toby Keith at No. 51 and Tim McGraw at No. 61.