Taylor Swift, Dianna Agron Celebrate an Icon's Birthday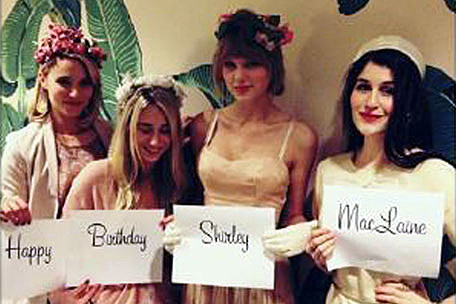 You're in Los Angeles, it's a Tuesday night, and you're Taylor Swift. What do you do? Throw a birthday party for an iconic actress, of course! Taylor, "Glee" actress Dianna Agron and two other friends got all dolled up and headed out to dinner at the Beverly Hills Hotel's Polo Lounge on what was the Oscar winner's 78th birthday.
"We dressed up full-time fancy and went out in celebration of Shirley MacLaine's birthday," Taylor wrote on Twitter.
Dianna had a less direct message, as she posted, "Had a long day & don't know what to celebrate later…? Because you need a moment to be young? Find your moments…"
The girls went all out, with white gloves, flowers in their hair and a custom-made dessert with 'Happy Birthday Shirley MacLaine' written on it. Taylor's "Valentine's Day" co-star was not there for the festivities, but we're guessing she's heard about them and is surely flattered. Any southern belle with an appreciation for Shirley's character, Ouiser Boudreaux, from "Steel Magnolias" would approve of this charming celebration.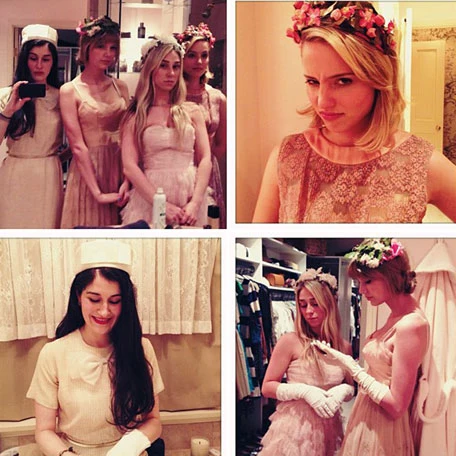 See More About Taylor's Night of Dress Up
#fivemin-widget-blogsmith-image-238465{display:none;} .cke_show_borders #fivemin-widget-blogsmith-image-238465, #postcontentcontainer #fivemin-widget-blogsmith-image-238465{width:570px;height:411px;display:block;}
try{document.getElementById("fivemin-widget-blogsmith-image-238465″).style.display="none";}catch(e){}