Taylor Swift Rides the Roller Coaster of Romance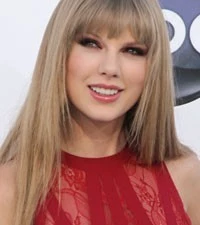 Although the list of Taylor Swift's alleged exes includes fellow celebs Taylor Lautner, John Mayer and Jake Gyllenhaal, the 22-year-old insists she hasn't given up on finding her fairytale ending just yet.
In a recent interview with Marie Claire UK magazine, Taylor says she still believes in love "even after it explodes into a million pieces and burns down and you're standing in a pile of the ash of what it once was thinking, 'Why did I have to meet this person, why did this have to happen?' But then, when you make eye contact with someone across the room and it clicks … bam, you're there. In love again."
While Taylor leave the details of her romantic entanglements to others to discuss, the singer-songwriter, who has most recently been linked to 18-year-old Conor Kennedy, confesses that falling for someone happens "easily" for her. "Not if it's the wrong person, yes if it's the right person," she explains.
Much of what will be included on her upcoming CD, Red (set for release Oct. 22), is still a mystery, but Taylor hints that it will showcase the wide range of emotions she has experienced in recent years.
"I went through a few roller coasters," she told Rolling Stone magazine. "Trying to chronicle each step of the way was challenging, because you go to some really dark places with the lyrics. Then in the next track, you're talking about how amazing it is to meet somebody new."
Taylor is nominated for three CMA awards including the top prize, Entertainer of the Year. The 46th Annual CMA Awards, hosted by Brad Paisley and Carrie Underwood, will air live from Nashville, Nov. 1 at 8:00 PM ET on ABC.

Watch a Video on Taylor's Upcoming Album
#fivemin-widget-blogsmith-image-745025{display:none;} .cke_show_borders #fivemin-widget-blogsmith-image-745025, #postcontentcontainer #fivemin-widget-blogsmith-image-745025{width:475px;height:351px;display:block;}

try{document.getElementById("fivemin-widget-blogsmith-image-745025″).style.display="none";}catch(e){}