Taylor Swift Tops List of Young Music Makers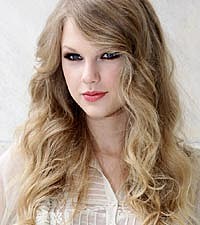 Taylor Swift Ieads a new list of young stars. The 20-year-old superstar has earned the top spot on Billboard magazine's '21 Under 21′ list for 2010, not only because of her age, but also for her "potential to rule pop culture" over the next year.
The Nashville resident has already ruled the airwaves since she released her debut single, 'Tim McGraw,' in 2006, and she has not slowed down since, making her mark in music and movies (with this year's turn in the feature film, 'Valentine's Day'). Taylor is listed as the top-selling digital artist in music history with more than 28 million tracks sold, and she has sold more than 13 million albums worldwide. In 2009, the reigning CMA Entertainer of the Year dominated the charts with her multi-platinum sophomore album, 'Fearless,' and she is about to release her third album, 'Speak Now,' churning out the smash hit, 'Mine,' as well as the album track 'Innocent,' which became an internet sensation after its debut on the MTV Video Music Awards earlier this month.
Taylor, who turns 21 on December 13, beat out her pals Justin Bieber (who came in at No. 2), Selena Gomez (in at No. 3) and Miley Cyrus (No. 10), as well as Disney Channel star Demi Lovato ( No. 8), nine-year-old Willow Smith (the musical daughter of Will and Jada Pinkett-Smith) at No. 7 and Nick Jonas (No. 6).
In other news, the singer-songwriter, whose 'Speak Now' arrives in stores October 25, recently had one of those self-described "magical nights" when she performed at the All for the Hall event in Los Angeles, along with Vince Gill, Kris Kristofferson, Emmylou Harris and Lionel Richie. She tweeted last week, "One of those nights I just need to remember every detail of. All of us sitting on stools, taking turns playing songs and telling stories."
if(typeof AOLVP_cfg==='undefined')AOLVP_cfg=[];AOLVP_cfg.push({id:'AOLVP_2517129044′,'codever':0.1,'autoload':false,'autoplay':false,'displaymnads':true,'playerid':'89761511001′,'videoid':'594252126001′,'width':476,'height':357,'playertype':'inline','stillurl':'dynamic','videolink':'#','videotitle':'dynamic','videodesc':"});