Steve Earle Plans 'So You Wannabe an Outlaw' for June Release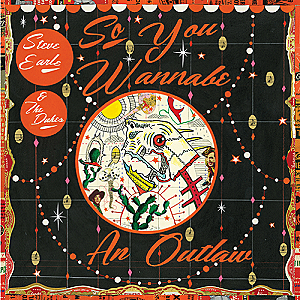 Steve Earle is set to release his upcoming album, So You Wannabe an Outlaw, this summer. The singer-songwriter recently announced that the record is due out on June 16.
Alongside his band, the Dukes, Earle has created an album that pushes country forward. The artist says that for So You Wannabe an Outlaw, his goal was to nod to his roots.
"There's nothing 'retro' about this record. I'm just acknowledging where I'm coming from," Earle says about the project, which was recorded in Austin, Texas (quote via BroadwayWorld.com). "Look, I'm always gonna be a Texan, no matter what I do. And I'm always going to be somebody who learned their craft in Nashville. It's who I am."
Earle and his band collaborated with Willie Nelson, Johnny Bush and Miranda Lambert on So You Wannabe an Outlaw. The disc is dedicated to the late Waylon Jennings and is meant to pay tribute to outlaw country more generally.
"I was out to unapologetically 'channel' Waylon as best as I could," Earle says. "This record was all about me playing on the back pickup of a '66 Fender Telecaster on an entire record for the first time in my life. The vocal part of it is a little different. I certainly don't sound like Waylon Jennings."
More New Albums Coming in 2017
A full track listing for So You Wannabe an Outlaw is below. For a list of upcoming tour dates, visit SteveEarle.com.
Steve Earle and the Dukes, So You Wannabe an Outlaw Track Listing:
1. "So You Wanna Be an Outlaw" (feat. Willie Nelson)
2. "Lookin' for a Woman"
3. "The Firebreak Line"
4. "News From Colorado"
5. "If Mama Coulda Seen Me"
6. "Fixin' to Die"
7. "This Is How It Ends" (feat. Miranda Lambert)
8. "The Girl on the Mountain"
9. "You Broke My Heart"
10. "Walkin' in LA" (feat. Johnny Bush)
11. "Sunset Highway"
12. "Goodbye Michelangelo"
Deluxe Edition Bonus Tracks (covers):
1. "Ain't No God in Mexico" (by Billy Joe Shaver)
2. "Sister's Coming Home / Down At the Corner Beer Joint" (by Willie Nelson)
3. "The Local Memory" (by Willie Nelson)
4. "Are You Sure Hank Done It This Way" (by Waylon Jennings)
What Is Americana? Its Artists Define the Genre