Steel Magnolia Experience 'Last Night Again'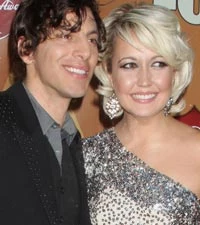 Steel Magnolia's Meghan Linsey and Joshua Scott Jones weren't amateurs when they won CMT's 'Can You Duet' competition. The couple had several self-penned tunes in their arsenal, but they needed a little help writing their current single 'Last Night Again.'
"We went into our label with five songs of ours that we had decided on," Joshua tells The Boot. "Our A&R rep at Big Machine heard them and then asked who we wanted to write with, because we needed to get a few more songs together. We were like, [in unison] 'Hillary Lindsey.' She's awesome."
"Every freaking video I was watching on GAC and CMT, at the end it was her name on the songwriting credit," Meghan explains. "She's the coolest chick ever. She's laid back. We went over to her house and we wrote 'Last Night Again' in a few hours out in her garage."
It's been a couple of years since that writing session, so it's understandable why the duo are having a hard time recalling who thought up the melody, lyrics or general ideas about the song. "I can't joke around and say that I came up with all the ideas because that will make me sound like a jerk," Joshua laughs.
"And because he didn't," Meghan clarifies with a smile.
Although, they do remember that the garage writing session wasn't the last the tune saw. "We finished the song and brought it to the head of our label, Scott Borchetta, and he said, 'I like it, but …'" Joshua reveals. "The hook we had made it sound like it was cheating song, and he thought we needed to change it. Basically, the hook made it sound like, 'Let's do what we did last night again, even though it was wrong.'"
"He said it didn't work for him, so we changed that and it was done," Joshua says.
'Last Night Again' has proved to be the little song that could. After the rewrite, neither of the singers thought it would be that great of a cut, let alone a single.
"When we recorded for it the record, we thought, 'Here's a B-side, let's just throw it on there,'" Joshua admits. "Even our producer thought the same thing. Once we dug in, though, and put the vocals down, it was just one of those songs that grows on you. I feel like it's like 'Keep on Lovin' You,' the more you hear it, the more you're like, 'Wow. I like this song.' It's fun, it's flirtatious. It's a great summer song."
"When I first heard it, I said it was my favorite song on the record, but I didn't think it'd be on the radio," Meghan admits.
"It just kept coming up, and everyone at the label thought it was fun and it feels good," Joshua explains.
The song also happens to be the first single from the duo that they share writing credit on. "It's exciting when you see the video and you see your name come up at the end, you think, 'That's us!'" Meghan describes.
Steel Magnolia are currently on the road. Their next stop is Friday (May 13) in Gulfport, Miss. Get more information here.
if(typeof AOLVP_cfg==='undefined')AOLVP_cfg=[];AOLVP_cfg.push({id:'AOLVP_773611245001′,'codever':0.1,'autoload':false,'autoplay':false,'displaymnads':true,'playerid':'89761511001′,'videoid':'773611245001′,'width':476,'height':357,'playertype':'inline','stillurl':'dynamic','videolink':'#','videotitle':'dynamic','videodesc':"});