Sonia Leigh Tour Gigs Include Willie Nelson, Uncle Kracker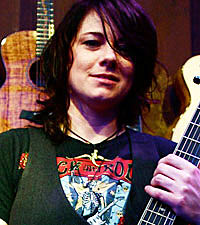 Sonia Leigh has an almost little-girl charm that drips awe and wonder when she talks about her career. But the wonder is real, and she is as down to earth as they come. Last year, the Atlanta native wowed critics and fans alike with the release of '1978 December', her first album on Zac Brown's Southern Ground Artists label (which features the single, 'My Name is Money.')
"I've been working professionally for a lot of years but this past year, for me, was sort of like a debut," Sonia tells The Boot. "Everything clicked right, the shows were amazing, I was happy with the record … A lot of other people seemed to like the record, so in that sense I almost feel like a new artist all over again. That's exciting for me."
Sonia credits Zac as being an important part of her career, giving her advice and inviting her to not only open shows for Zac Brown Band but also share the stage with the Grammy winners from time to time.
"It's a real honor to be on his record label but even more of an honor just to know him," she says of her label boss. "My album '1978 December' is a reality thanks to Zac. I consider myself really fortunate to be a part of what he is doing."
Sonia tells us she hopes to play more shows with ZBB in the coming year, when she's not busy traveling on Uncle Kracker's Hometown tour. She has also booked another opening act gig that fulfills a lifelong musical dream.
"I'm playing with Willie Nelson a few times, too!" she says with a smile. "That's hard to believe, when I say it out loud. When I was young, if you ever told me I'd be playing with someone like that, I don't think I would have believed you."
Sonia opened for the woman who made her a country music fan in the first place, Loretta Lynn, last spring. The singer-songwriter explains she was bitten by the country music bug at the young age of five, when her dad took her to Coal Miner's Daughter concert in Alabama. "I could still listen to Loretta every day," Sonia says. "The music, the way she carried herself — just the best."

Watch Sonia Leigh's 'My Name Is Money' Video
if(typeof AOLVP_cfg==='undefined')AOLVP_cfg=[];AOLVP_cfg.push({id:'AOLVP_us_1157746961001′,'codever':0.1,'autoload':false,'autoplay':false,'playerid':'61371447001′,'videoid':'1157746961001′,'publisherid':1612833736,'playertype':'pageload','width':476,'height':357,'videotitle':'Test','bgcolor':"});