Shania Twain Responds to CMT Music Awards Fall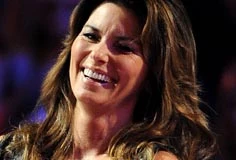 "I don't need a stunt double," Shania Twain joked just minutes after taking a nasty fall on her way to the stage to present Blake Shelton with the 2011 CMT Music Award for Male Video of the Year. Luckily, the singer didn't hurt herself in what she calls "one of life's most embarrassing moments" — tumbling on live television on what appeared to be a recently waxed floor.
Watch a clip of Shania's fall below, followed by a video response to the accident, which she posted on her Twitter page just minutes after the show.