Sara Evans Returns to 'Dancing With the Stars'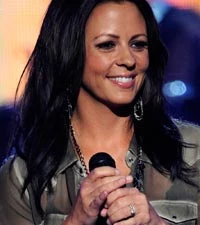 Sara Evans returns to ABC's 'Dancing With the Stars' on Tuesday (May 24) to perform her latest multi-week No. 1 hit, 'A Little Bit Stronger,' on this season's finale.
The country songstress was the first country artist to appear on the show as a contestant in 2006 when she was paired with dance partner Tony Dovolani, who she said at the time was "sent from God."
"Being on 'Dancing with the Stars' was such a fun experience and one of the highlights of my career," Sara says. "I'm so honored and excited to go back and sing for this season's finale!"
This time the singer does not have to worry about the judges criticizing her dance moves, which she said shocked her after the first dance, a Foxtrot, because she believed she and Tony did pretty well, considering she had never danced before. However, the three judges thought differently.
"I was expecting critiquing, but I was not expecting, 'You're so conservative, and you look like Barbara Bush, and basically I hate you,'" she laughs. "It was a hard night. I cried when I got home and my mom cried. So, the next day I completely prepared myself for being gone … and then it turned out that we had way high scores as far as voters."
Sara, who is nominated for Female Video of the Year at this year's CMT Music Awards, made it through the elimination process for several weeks, but then dropped out of the show before the end of the season, after filing for divorce from her then-husband, Craig Schelske. The singer is remarried to Alabama football legend and sports radio host, Jay Barker.
The Black Eyed Peas and The Go-Gos will also perform during the two-hour season finale, which airs Tuesday, May 24 at 9:00 PM ET on ABC.
Watch Our Day in the Life of Sara Evans Video
if(typeof AOLVP_cfg==='undefined')AOLVP_cfg=[];AOLVP_cfg.push({id:'AOLVP_776508176001′,'codever':0.1, 'autoload':true, 'autoplay':false, 'playerid':'81512831001′, 'videoid':'776508176001′, 'width':480, 'height':429, 'stillurl':'http://pdl.stream.aol.com/pdlext/aol/brightcove/studionow/p/122f13443e144/r/1f5ad78b999f7/al/174417/poster-10.jpg', 'playertype':'inline','videotitle':'A Day in the Life of Sara Evans','videodesc':'undefined','playlist':true,'featured':'830596242001′});