32 Years Ago: Ricky Skaggs Hits No. 1 With 'Highway 40 Blues'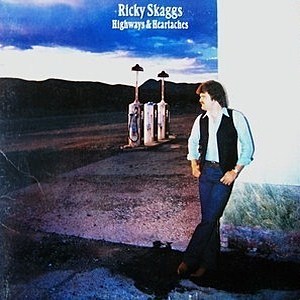 Thirty-two years ago today (July 9, 1983) was a memorable day for Ricky Skaggs. It was on this day that the singer soared to the top of the charts with his single "Highway 40 Blues," from his No. 1 Highways & Heartaches album.
The song was written by veteran songwriter Larry Cordle, but Skaggs changed one line from "My eyes are filled with bitter tears / Lord, I could use could an ice-cold beer" to "Lord, I ain't been home in years" to accommodate his devoutly Christian parents. In his autobiography, Kentucky Traveler, Skaggs says that he never wanted to record a song he wouldn't have felt comfortable singing in front of them.
Highways & Heartaches became Skaggs' first platinum-selling album and spawned two other No. 1 singles, "Heartbroke" and "I Wouldn't Change You If I Could."
Skaggs performed "Highway 40 Blues," along with "I Wouldn't Change You If I Could," on the syndicated TV show Hee Haw. He included the song on both his 2000 16 Biggest Hits album and his 2011 double disc The Essential Ricky Skaggs, and he later re-recorded it for his Country Hits Bluegrass Style album.
Download "Highway 40 Blues" here.