Rascal Flatts Realize 'Dreamlike' Duets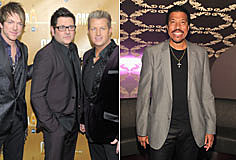 Rascal Flatts have had a few surreal moments over the course of their 10-plus year career, but to have two of those moments occur in the same span of time is quite unusual. The guys recorded duets with both Lionel Richie and Michael Bolton in the same week.
The trio were nearly starstruck when Lionel entered the room to record 'Dancing on the Ceiling' with them for the legendary performer's upcoming duets album. "When he walks in the room, it's like, 'Wow!,'" Joe Don Rooney tells The Boot. "It's like kinetic energy. It just is. You just can't help but soak it up. This guy is so amazing. He has this huge personality, and it's also very sweet and real and he's just one of the greatest artists ever. It's dreamlike stuff when you get to work with people like that."
"You just look and go, 'You're a Commodore, man! You're a Commodore,'" Gary LeVox exclaims. "You're talking about a guy that was part of one of the biggest songs ever — 'We Are the World' — so that's when your mouth drops, and you go, 'Ahhhh.'"
As for their choice in which of Lionel's hit to record, it was not a difficult decision. "'Dancing on the Ceiling' was one of our post [show] songs that we would blast on the bus," Jay DeMarcus explains. "Our first five, six years together, we all three rode on the same bus and we would get back after the show, and you're still pumped up, you've got all this adrenaline going, and one of the songs we'd play in our playlist was 'Dancing on the Ceiling.' So when it came time to do a duet with him, it just seemed like a no-brainer. We were either going to do that or 'You Are,' which is another one of our favorites."
The pop singer-songwriter has already recorded with Darius Rucker ('Stuck on You'), Jason Aldean ('Say You, Say Me'), Tim McGraw ('Sail On'), Kenny Rogers ('Lady'), Willie Nelson ('Easy'), Little Big Town ('Deep River Woman'), Blake Shelton ('You Are') and Jimmy Buffett and the Coral Reefer Band ('All Night Long'). Sugarland's Jennifer Nettles and the Zac Brown Band are also expected to be on the project.
In addition to their duets with Lionel Richie and teen heartthrob Justin Bieber ('That Should Be Me'), the guys also got together with Michael Bolton to write and record a song for the pop star's new project, which is also said to include a multitude of other artists, including Seal.
"Dann Huff is producing some sides on him and his new project," Joe Don explains. "He's doing a duets project, and he asked to work with us. What I do like about Michael is he wanted to write something, I thought that was cool. It wasn't like cut something old of his, which we would've done, it would have been great, but he wanted to write something with us and get all of us involved and make this thing new and fresh. We got together and just wrote a killer song … he's another one, much like Lionel Richie. He's like one of the greatest singers on the planet. And he and Gary sound so good together."
"It's called 'Love is Everything,' Jay notes. "It's a deep message, if you couldn't tell by the title. He still sings his butt off: that's what's amazing. He still hits all those notes."
Rascal Flatts wrapped up this leg of their Nothing Like This Tour in New Orleans, La., Sunday (March 13).
Download Rascal Flatts Songs | Buy Rascal Flatts Albums