Rascal Flatts Receive CRS Humanitarian Award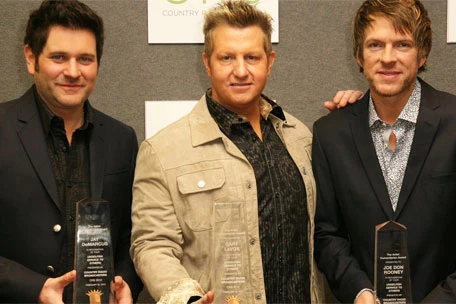 Giving back is a huge priority for Rascal Flatts' Jay DeMarcus, Gary LeVox and Joe Don Rooney. Their charitable efforts range from helping fight hunger to the prevention of teen suicide to involvement with organizations such as Make-a-Wish, the American Red Cross and the Vanderbilt Children's Hospital, where the bandmates have given so much of their time and money that they have an entire wing named after them. The trio's tireless community service was rewarded this week at the annual Country Radio Seminar, as Rascal Flatts were named the 2012 CRS Artist Humanitarian Award recipients.
"It's a little uncomfortable to be recognized for something we feel we should be doing," says Jay. "We have been so blessed with an amazing career, to pay the blessings forward seemed the most natural thing to do."
Somehow, the guys have also found time to put together a new album, 'Changed,' to be released April 3, along with a huge headlining tour in support of the music. (Keep track of their concert schedule here.) Additionally, they're prepping a clothing line, a signature fragrance and the opening of their own restaurant in Columbus, Ohio.
Watch Rascal Flatts Talk About the Jason Foundation

#fivemin-widget-blogsmith-image-425907{display:none;} .cke_show_borders #fivemin-widget-blogsmith-image-425907, #postcontentcontainer #fivemin-widget-blogsmith-image-425907{width:570px;height:411px;display:block;}