Randy Houser, 'How Country Feels' Has New Father Opening Up Like Never Before
The year is off to a great start for Randy Houser. The Mississippi native is enjoying his first No. 1 single, as "How Country Feels" tops the Billboard Hot Country Songs chart this week. The hit tune is the title track of Randy's first album on Stoney Creek Records, which releases today (Jan. 22).
"It means everything. It's such a milestone to have the No. 1 most-played song in the country. I don't know if it's really registered yet," Randy tells The Boot. "There's so much appreciation. I can't really take all the credit, because I have such a wonderful team around me [including] my new record label. And I've had such incredible support from country radio, all the programmers and the people who've really latched onto the song and believed in me."
Between spending time with his wife Jessa and their 10-month-old son, West Yantz Houser, and promoting his new album, life is extremely busy these days, but Randy is enjoying every minute. He says fatherhood has helped him prioritize and learn to delegate. "The most important thing in my life right now is my family and my little boy," he says. "It helped to line things up. It allowed me the chance to really depend on other people around me on my team to do jobs that I would always try to do myself, that they were actually getting paid to do. It allowed me to step back and let them do what they do to make this thing successful."
Though he might depend on his manager, publicist, record company staffers and other members of his team to help propel his music career, when it comes to fatherhood Randy relishes being a hands-on dad. "I do everything," he says. "From the time he was born, I basically pulled him out, cut the cord and put his first diaper on. For the first three weeks or so, I let my wife Jessa just basically stay in bed. I took care of him every few hours because we did bottle feed, so I let her heal up. I also knew the way my schedule was, I needed to get in that bonding time as early as I could and spend every moment I could with him. When I'm home, I try to spend all the time I can with him."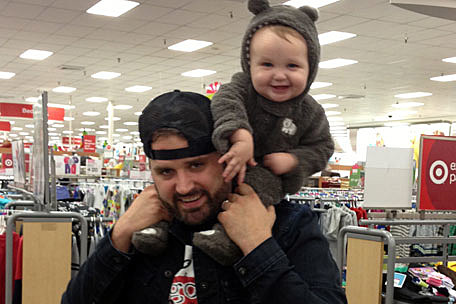 Photo Courtesy RandyHouser.com
Randy admits that heading out on tour isn't the carefree adventure it used to be, but that coming home these days is even sweeter than ever. "When I come home, he just gets the biggest smile on his face," the proud papa says. "You see him light up whenever I come home, but he's also started to realize when I'm leaving. When he hears the sound of that suitcase rolling up the hall, he gets sad. You can tell that he knows Daddy is leaving. He's just starting to react now to everything."
Randy says his son's name definitely suits him. "He's a little wild, wild West," the singer says with a laugh. In naming their baby, the couple chose Jessa's maiden name for West's middle name. "Her father, Bill Yantz, always wanted a boy and he had three girls. So whenever we found out West was a boy, he was so excited. I wanted to give West her maiden name and Bill's last name so he could feel like he had a boy. He is eat up with it. It's a special thing, because my daddy died when I was 21 and I wished he was around. I want my son to have a really good relationship with his grandfather."
Whether he's doing an interview or recording a new album, Randy is pretty much an open book, and it's that unfettered honesty and warmth that draws people in. "I always try to put something personal on my albums just to give people out there a little piece of my history and how I got where I am and who I am," says the powerhouse vocalist, who first hit the charts in 2008 with the top 20 hit, "Anything Goes," and followed it with the No. 2 hit, "Boots On."
He released two albums on the Universal South label before signing with Stoney Creek Records and starting work on his new album with producer Derek George. The result is a 15-song collection that showcases Randy's skill as both a singer and songwriter. The album includes such rollicking uptempo tunes as "Runnin' Outta Moonlight," which will be the next single, and the poignant ballad ,"Route 3 Box 250 D," an extremely personal song about his childhood and how an uncle helped Randy and his mom escape his abusive stepfather.
"I wrote it with two of my buddies, Rhett Akins and Ben Hayslip, and I guess it was just time for that to come out," he says quietly. "I had that idea for a while and thought about it, but when we went in the room that day, I wasn't really expecting to bring all that personal stuff out. It started falling out of me and I was hesitant because I was like, 'Is this what I want to deal with right now with these two buddies of mine here?' I guess so." Randy says it's the most personal song he's ever written and it's hard to listen to. So what did his mom think when she heard it? "She heard it by accident," he says. "I wasn't going to let her hear it until the album was out because I didn't want her to say, 'No, don't put that song on the album.' I was gone and she was at my house babysitting. She got in my truck and it was in my CD player. She heard it and she sent me a text and said, 'I just heard that song about Route 3 and I just can't quit crying.' It was a part of our lives that was tough that we really never talked about. It's just one of those things you don't really discuss, but a lot of those things come out in music in my life."
Randy is hoping the song will encourage other people who may be going through a difficult time. "That's what it's all about, just getting through things and knowing that it's not hopeless," he says. "You can get out and make something of yourself."
With a successful career and a beautiful family, Randy has indeed overcome his turbulent childhood to find happiness. He loves being a dad and is enjoying married life. When asked how he knew Jessa was the one, he says, "You know when you know. She could just hold my hand and I could sleep better. You just know."
Though it's hard to leave his family at home, Randy is looking forward to sharing his new music with fans. In addition to headlining his own shows, Randy will also be joining Dierks Bentley and Miranda Lambert on the Locked and Reloaded tour. "I want to let fans know how much I appreciate them and how much I appreciate them showing interest in our music and me personally," Randy says as our interview winds to a close. "I just want to say 'thank you' for having our back in 2012 and moving forward in 2013, and please come see us. You'll have fun. I promise."