Randy Houser, 'How Country Feels' AOL Sessions Performance (WATCH)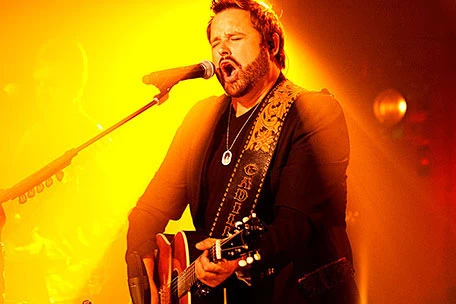 Randy Houser brought country to the big city a few weeks ago, performing his first No. 1 single, "How Country Feels," along with four other hits in AOL's New York City studios. The singer-songwriter was still reeling from the success of the tune, which topped the charts in January, and was eager to share credit for its journey.
"I knew we had something pretty special with this song," Randy tells The Boot. "My friend, Neal Thrasher, was singing the songwriter's demo. Benny Brown, who is the president of my record label back in Nashville, he played me the song for our first round of cutting and that was one of the first songs he played me. I immediately, as soon as it got to the spot where it said, 'Hair down, hair down,' I went 'Yeah, we'll take that.'"
See Randy perform "How Country Feels" for AOL Sessions below.
It wasn't only the lyrics and a familiar voice on the recording that caught his attention, though. "It was one of those immediate hooks that grabbed me and it took me to this fun, happy place and that was a place that I wanted the direction of this album to go," he explains. "Out of the box, I was there and I knew that I was going to record that song. I didn't know it was going to be a No. 1, because I've seen the ups and downs and all that, but I had a great feeling about it."
A lot of factors come into play when a tune tops the the charts, but Randy is quick to share credit with his label home, Stoney Creek Records. "Part of that has to do with me having a team that I really believe in back in Nashville, the ladies that go around and get my records played," Randy says. "I've got a great promotion team at Stoney Creek. When I decided to sign a record deal over there, it was the most peaceful I've ever felt about a record deal … ever. This is my fourth record deal and I felt like that I really had a team that was really behind me. I knew that they meant business and I meant business, we both wanted to make this thing happen. They gave me a shot that really nobody else was into giving me. I don't think any other record label would've put in the effort that they have to help me achieve the things that I have so far and I'm very, very thankful for them for that."
Watch Randy's 'How Country Feels' Sessions Performance

Flip Through Photos From Randy's Sessions
%VIRTUAL-MultiGallery-180224|176748|174627%