Randy Houser's Baby Has New Dad 'Growing Younger'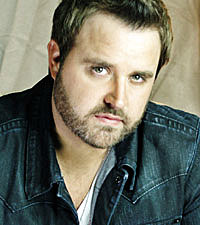 Randy Houser is currently juggling his two greatest loves: music and fatherhood. The singer-songwriter is on the road most weekends playing the latest Jägermeister Presents tour, and spending as much free time as he can with his 3-month-old son, West.
"He sleeps very well until he thinks that I might want to go to sleep," Randy tells The Boot with a laugh. "When he wakes up at 3:30-4 in the morning, and I go get him, that's our time by ourselves. I went and bought me a La-Z-Boy recliner, and I rock him. That time, when everyone else is asleep, and it's just me and my little man, that's the best time I've ever spent in my life. I just get to love on him. It, literally, is the best."
The Mississippi native has found a way to marry his top interests, though. "I make songs with him all night," Randy admits. "I sing little songs about West. 'West is the Best,' and all that kind of stuff. He's really starting to respond. He's really smiling a lot now. He's the stuff. I was home with him until he was about two months, trying to make a record. We've had a lot of good bonding time."
However, when it's comes time to make money, Randy isn't looking forward to having to say goodbye to West, and to his wife, Jessa. "I wish I could take him out on the road, I just can't right now," he says. "They would love to go and I would love to have them. There's 10 guys on a bus, and if you bring a baby on the bus, they'd really have to clean up their act or whatever. In other words, we need another bus. If I could get to a place, financially, where it makes sense to get my own bus, then I want them there. It's going to become important. It's important to me now, but I just can't afford it."
Despite the heartache of leaving his family at home, Randy is enjoying his current trek. While his new album isn't ready yet, he's previewing songs for his fans. "Right now our set has seven or eight new songs in it," he admits. "That's one of the most exciting things about it every night. I find myself getting nervous to go out on stage, because there are all these new songs and new lyrics and new guitar parts that I have to remember. We're trying a lot of new stuff to see what's going to make this record."
And there are some serious contenders already. "Of course, the single ["How Country Feels"] has been getting a great response," Randy notes. "There's another song called, 'We're Just Growing Younger,' that's been really good. It's a song I wrote with Justin Weaver and Brett James. I had that title, I had thought about something someone had said to me, 'Like a wine getting better with age,' and I thought, 'Well, hell, I'm just getting younger.' Honestly, I feel so rejuvenated and younger, because I'm not just beating myself up with a whiskey bottle all the time. I feel like a younger man and I'm sure having a child and all that has to do with that."
Randy is playing tonight in North Lawrence, Ohio. Get a full list of his tour dates here.
Hear Randy's "How Country Feels"