Blake Shelton, Craig Morgan Headed to the Golden Moose Awards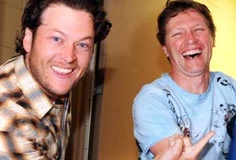 We all know how Blake Shelton feels about deer, but how about moose?
We'll find out when he performs at the Outdoor Channel's 11th Annual Golden Moose Awards, where good buddy Craig Morgan's show 'All Access Outdoors' is up for trophies in three categories: Fishing, Sound Design and Commercial for Millennium Treestands.
While it's Craig we should be wishing luck, the 'Redneck Yacht Club' singer has targeted Blake's fiancée Miranda Lambert. "Man, I just wish Miranda luck," Craig told CMT Country Countdown USA with a laugh. "It ain't about Blake. I don't know what she's thinking. She could do so much better. I really question that. I mean, it's Miranda Lambert. What would make her choose Blake Shelton? [laughs] Everybody still laughs at that. You don't wish them luck, you wish her luck. Good luck, honey."
"No, I know they love each other," he continued on a more serious note. "I'm excited for them!"
Blake, who makes regular guest appearances on various Outdoor Channel programs and who's been known to enjoy a good party, likely approves of this year's Conservationist of the Year winner: Budweiser.
Granted, there may be someone he'd to see awarded the honor more. "Hunters are the best conservationists that exist," Blake said. "A lot of organizations talk a good game about saving animals, but when it comes down to it, we're the only ones getting it done, spending millions of dollars every year on hunting and fishing licenses, constructing and preserving habitats."
The 11th Annual Golden Moose Awards, which will take place January 20 at the Hard Rock Hotel & Casino Las Vegas during the SHOT show, will be hosted by 'Buck Commander Protected by Under Armour' and 'Benelli Presents Duck Commander' star Willie Robertson.