New CDs: Keith Urban, Rodney Atkins March is ending with a bang in the country music world, with the release Tuesday of new albums from two of Nashville's biggest stars.
Keith Urban wears his heart on his sleeve on his fifth studio album, 'Defying Gravity.' With upbeat love songs like 'Sweet Thing,' 'Kiss a Girl' and the particularly personal 'Thank You,' Urban's new CD is packed with sunny romance.
"I just write by what drives me, and what's driven me the most has been my wife's love," the country superstar tells the New York Times. "And as it's turned out, this is a great year to have a record about love and hope and light."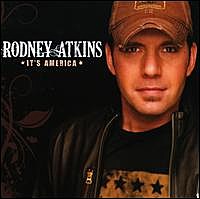 As American as apple pie himself, Rodney Atkins releases 'It's America' Tuesday, his third studio album. Its title track is already racing up the charts, with a message that celebrates everyday life in the U.S.A.
"Sometimes it is the simple things in this great country that really make me appreciate it," says Atkins. "When we share this sense of pride through music, you become friends with everybody listening. It s an honor to go out there and represent the everyday man and woman, to represent country music and what it's all about."