Miranda Lambert Reveals Pre-Wedding Diet Details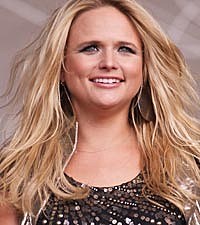 Miranda Lambert and Blake Shelton have already made several decisions about their upcoming wedding, including serving deer meat at the reception and being serenaded by good friend Neal McCoy. But while anxious fans are still waiting to see what the bride's wedding gown will look like, chances are she will have to buy one in a smaller size!
"I don't know how much weight I've lost. I just know people tell me, 'You look great,'" she tells Us Weekly (quote via CMT.com). Admittedly down two dress sizes already, the soon-to-be bride says it all comes down to healthy choices. "Now instead of Cheetos, I choose almonds," she explains, adding that her diet consists mostly of oatmeal, vegetables and turkey. "No mayonnaise, no potatoes or bread … really just vegetables and meat."
The three-time CMA Award winner even found time to add a grueling work-out routine to her schedule — no small feat considering she spent most of the last few months on the road as the headlining act for CMT on Tour: Miranda Lambert — Revolution 2010. But the platinum-selling singer may finally be making peace with living on the other side of the camera lens — a situation she admits was a challenge in the past.
"I've used stylists before and sample size dresses are tiny," Miranda tells The Boot. "They are from the runway. They are like a [size] two. And I don't wear a two, not even close! So I've found in the past that I've had different stylists, and they'll bring tons of clothes and one dress will fit and I really won't like it, but I'll have to wear it on the red carpet anyway. And that's a bad feeling, to know that's the only one that zipped … and it's really, really expensive. If I pay all this money for dresses that don't fit, I might as well just go buy one myself."
Miranda will have plenty of opportunity to show off her new svelte figure on the red carpet. She is nominated for two People's Choice awards and five Grammy awards. The People's Choice Awards will air January 5 on CBS, while the Grammy telecast airs live on February 13, also on CBS.