Miranda Lambert and Patty Loveless Build a 'House' Together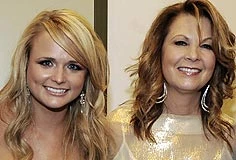 Miranda Lambert and Patty Loveless fans who attended their concert on September 11 — which also included Craig Mogran — had a special treat when the pair performed two duets. Miranda invited Patty to join her on 'The House That Built Me,' and then joined Patty when she sang her song 'Halfway Down.'
"I wasn't sure I should sing it with her. It's so personal," Patty tells The Boot about singing 'The House That Built Me.' "[But Miranda said], 'No, come on!"
Patty's love of Miranda's singing really kicked in last year after the two met at the 2009 ACM Honors and Miranda gave Patty a copy of her then-unreleased album 'Revolution.'
"I put the CD in my car stereo when I was driving [home to Georgia from Nashville] and listened," says Patty. "I emailed her and said the whole record is great but 'The House That Built Me' — well, that's the song. That's the kind of song I would love to write and hear somebody like her or Carrie Underwood record in the future."
Patty is obviously a huge Miranda fan, and she offers special praise to Miranda and Carrie.
"Carrie, she rocks out and Miranda does too," says Patty. "They can take a country song and really play it. Carrie did a Randy Travis song – 'I Told You So' – and she nailed it. I know she made Randy proud. He said, 'I'm never going to sing that song again!' Miranda takes Patsy Cline's song 'Crazy' and really makes it her own."
Patty and Miranda are so musically in-sync that after the September 11 concert, they went back to Patty's room — joined by their bands and Craig and his band — and "hung out and sang songs together" for hours, says Patty.
Miranda's next shows are scheduled for September 25 in Portland, Ore., and September 27 in San Jose, Calif. For complete dates and cities, check here. Patty's next concert dates September 23 in Alexandria, Va., and September 26 in Sellersville, Pa. Click here for more.