Miranda Lambert Grammy Performance Confirmed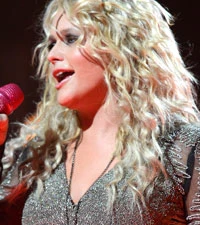 Country music will have some superstar representation on the 2013 Grammy Awards stage — in the form of three talented, beautiful blondes! Miranda Lambert joins Carrie Underwood and Taylor Swift as the three country artists confirmed to perform on the live broadcast, joining the Black Keys, FUN., Mumford & Sons and Rihanna, with more performances to be announced in the coming weeks.
"The Grammys is so exclusive; it's all genres … it's everybody voting for you. It means the world to have a nomination and to get to perform," Miranda said on Tuesday's episode of the CBS chat show, "The Talk," officially announcing her slot on the show.
Miranda's Four the Record is nominated for Best Country Album. "Albums are what drives everything in our career. It starts with the music," says the multi-platinum-selling star. "Albums are like my babies — what I put all my energy into."
Hosted by LL Cool J, the 55th annual Grammy Awards will air live from Los Angeles, Feb. 10 at 8:00 PM (ET/PT) on CBS. FUN., Mumford & Sons, Jay-Z, Frank Ocean, Dan Auerbach and Kanye West lead the pack of nominees with six nods apiece. See a list of 2013 Grammy nominees here.
STORY UPDATE: The Recording Academy has confirmed that Miranda will actually be performing with her current tourmate, Dierks Bentley, on the Grammys! There's no word yet on what song they'll sing together.
Watch Miranda's 'Fastest Girl in Town' Video