Luke Bryan Announces Dates for Third Annual Farm Tour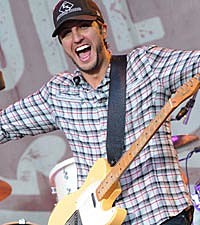 Luke Bryan is wrapping up his tenure as the opening act on Tim McGraw's Emotional Traffic tour, while he gears up to kick off his own headlining trek, dubbed CMT on Tour: Luke Bryan Tailgates & Tanlines, next month.The Georgia native will also squeeze in time for his favorite autumn activity, performing his Farm Tour for the third year, with the proceeds going to a worthy cause.
"We just want to have a little fun in the fall," he notes. "I think what's cool about the Farm Tour is, these things are a big event for these towns. I just love the fact that people can come out and have a big time, listen to some music. It's a fun experience all the way around. I want to do what I can to keep it rocking."
The married father of two says he never considered taking a break from his annual Farm Tour, which targets rural communities similar to the small town he grew up in, even though his schedule is much more hectic these days than it was a couple years ago. "We have such a blast at these shows," says Luke. "We look forward to bringing music into some of these areas where concert tours can't get to. There's nothing like building a tour set in the middle of a crop field!"
The 'Country Girl (Shake It for Me)' singer has been taking performance lessons from his tour boss, which he hopes to incorporate to his upcoming shows. "Being out with Tim, you just see the grandest scale of entertainment," Luke tells The Boot. "He's up there in the upper echelon of massive entertainers, and guys who bring it every night and have done it for years, and crowds who have continued to support him for years. There's been so many levels of that tour that have been so fulfilling for me, and to see the fan support night in and night out for him, and see the way he delivers it night in and night out has been the big learning experience."
All proceeds from the Farm Tour will benefit a scholarship for a student from each town to attend a local community college. See the Farm Tour dates below, and for his Tailgates & Tanlines schedule, which kicks off on September 15 in Huntington, W. Va., click here.
September 29, Clemson, S.C.
September 30, Athens, Ga.
October 1, Macon, Ga.
October 5, Statesboro, Ga.
October 6, Valdosta, Ga.
October 7, Carrollton, Ga.
if(typeof AOLVP_cfg==='undefined')AOLVP_cfg=[];AOLVP_cfg.push({id:'AOLVP_955300279001′,'codever':0.1,'autoload':false,'autoplay':false,'displaymnads':true,'playerid':'89761511001′,'videoid':'955300279001′,'width':476,'height':357,'playertype':'inline','stillurl':'dynamic','videolink':'#','videotitle':'dynamic','videodesc':"});
Sign Up for Our Newsletter

Download Luke Bryan Songs | Buy Luke Bryan Albums