LeAnn Rimes Gives Thanks for Her Musical Blessings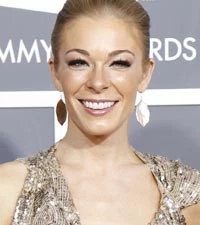 LeAnn Rimes doesn't take the talent she has as a singer lightly. During a fan event in Nashville for SiriusXM Radio, she was asked to name her favorite thing about singing and performing.
"The artistic expression of being able to do what I do, and being blessed with the gift I have and the opportunity to entertain people," answered the songstress, who had been on voice rest prior to the fan get-together. "It is a blessing to be able to bring joy to people's lives."
She went on to talk about creativity, expressing, "The older I get, the freer I become creatively, so to see someone connect with my music … tears on their face … a 19-year old react to a very emotional song during my show … it is still amazing to me how music continues to affect people."
LeAnn looked to her own emotions and how she has reacted over the years to some of her favorite songs as inspiration for her upcoming album, 'Lady & Gentlemen,' produced by Vince Gill. Turns out, all her favorite love songs were originally recorded by men.
"It is a covers record where I pay homage to the original material," LeAnn explained. "I put my own twist to them, sometimes changing the tempo from fast to slow. I feel that I will be bringing these songs to a new generation, while singing these male songs from a woman's perspective."
Among the songs LeAnn chose for the album are 'He Stopped Loving Her Today' (George Jones), 'Good Hearted Woman' (Waylon Jennings), and 'Swingin" (John Anderson), which LeAnn says was her favorite song when she was growing up.
There is also a bonus track, a new version of 'Blue,' which she first recorded 15 years ago, when she was 13. LeAnn decided she would do a new recording of the song now that she's 28 and been through so much more, both in her career and personal life. "I thought it was appropriate on this new CD," she explained.
The singer will star in CMT's original movie, 'Reel Love,' this September. In the film, LeAnn plays a successful city girl who returns to the small town where she grew up after her father, played by Burt Reynolds, becomes ill.
Download LeAnn Rimes Songs | Buy LeAnn Rimes Albums