LeAnn Rimes Has Minor Mouth Surgery
Amanda Edwards, WireImage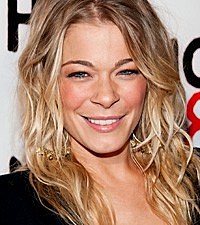 Amanda Edwards, WireImage
LeAnn Rimes is recovering from minor mouth surgery. The country singer revealed to fans a recent procedure that has left her with incredible jaw pain.
"I've been in SO much pain it's not even funny. Nothing major just annoying! Pain pain go away!!!!!!" she tweeted. "When it's mouth pain and jaw pain it makes your whole head pound! YUCK."
According to CTV News, LeAnn is recuperating at a Malibu beachfront home with actor husband Eddie Cibrian and several friends. She has since put her feet up at the beach, hoping for the surgery's side effects to subside.
Despite LeAnn's full disclosure, several Twitter trolls have questioned the singer's true reasons for going under the knife. LeAnn was quick to let fans know the surgery was not elective, claiming it was a needed medical procedure. She has yet to post the reason for her surgery, which could be anything from a root canal to wisdom teeth removal. But within the past 24 hours, she has assured fans that the pain is slowly dissipating. Get well soon, LeAnn!