Lauren Alaina, Scotty McCreery Steal the Show at CMA Music Fest
Fans at Nashville's LP Field Saturday night (June 11) undoubtedly came to the CMA Music Festival to see their favorite stars, including Rascal Flatts, Trace Adkins, Martina McBride and Josh Turner, but that didn't keep them from going crazy for 'American Idol' winner Scotty McCreery and runner-up Lauren Alaina. The teenagers made their CMA Music Festival debuts in two surprise — but not shocking — appearances.
Chris Young (sans cowboy hat) started the evening off on the right foot, jumping right into his hits with 'Gettin' You Home.' He followed it with 'Voices' and the rowdy, uptempo tune 'Save Water, Drink Beer,' before thanking the crowd for his fourth straight Top 10 hit, 'Tomorrow.'
Before Little Big Town took the stage, Danny Gokey made an appearance next as the Gildan Activewear company received the Guinness World Record for the World's largest t-shirt, measuring at 281.3 feet long by 180.0 feet wide.
Kristin Chenoweth, the night's co-host along with Evan Farmer, spoke about the 'Stand Up' video that LBT made with Sugarland for tornado victims, prior to the foursome taking the stage. "Artists who do that, it really matters," she said. "Being from Oklahoma and seeing the devastation there, it really matters."
The quartet started their set with 'A Little More You,' before doing 'something special' and wowing the crowd with their version of Lady Gaga's 'Born This Way.' Next, they went into 'Bring It on Home,' before the clap-inducing 'Little White Church.' The audience participation continued as the crowd sang along to the group's signature hit, 'Boondocks.'
Clint Black was the first non-billed artist to entertain the crowd with 'The Galaxy Song,' into a love song inspired by his wife Lisa Hartman Black, 'Something That We Do.'
Josh Turner was up next, pleasing fans with every low note he hit. His set was a selection of his greatest hits from 'Would You Go With Me' to 'Long Black Train,' before switching things up during 'Your Man.' Halfway through the song a similar but distinctly different voice took over the lyrics, as Scotty McCreery joined the South Carolina native for the tune. Once the crowd was able to compose themselves, Josh started into his current single 'I Wouldn't Be a Man,' before speeding things back up with 'Firecracker.'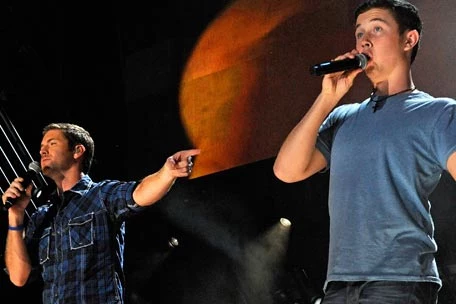 "There's a sign over here that says, 'We wanna sop you up with a biscuit,'" Josh told fans before his last song. "I'm sweating so much right now that you probably could. [laughs]" With that, he went into 'Why Don't We Just Dance,' and they did.
Big & Rich brought Big Kenny's top hat and John Rich's 'Yee Haw'-emblazoned guitar next. The duo kept the energy up as they performed their single 'Fake I.D.,' during which they were joined by none other than Gretchen Wilson.
Trace Adkins' 'Working Man's Wage' kept the crowd fired-up, evident in one entire section of the stadium that were shaking what appeared to be small beach balls in unison. A solo performance of his duet with Blake Shelton, 'Hillbilly Bone,' preceded 'Swing.'
"One behalf of me and my family, who are all here tonight, Thank you for your sympathy and generosity," Trace said, referring to the recent loss of his home in a fire. "It means the world to us. Thank you, but point it somewhere else. We're OK." The crowd erupted at the last statement.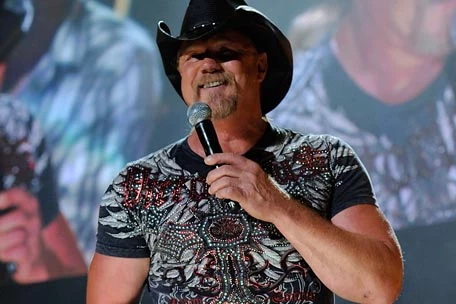 After playing the first song from his next album, 'Just Fishin',' Trace announced that the project, entitled 'Proud to be Here,' will be released August 2. Before leaving for the evening, Trace sang 'Ladies Love Country Boys,' into 'Brown Chicken Brown Cow' and "another love song," 'Honky Tonk Badonkadonk.'
Armed with only one guitar, Thompson Square made their way to the stage, where they sang 'I Got You,' citing that they've "never played for this many people before." Then they sang the song they say changed their lives,' 'Are You Gonna Kiss Me or Not?'
Martina McBride opened with a new diddy she co-wrote, 'One Night,' before 'This One's for the Girls.' "This song is about good friends and drinkin' wine," she said before 'Wrong Baby Wrong.'
"Every 10 years or so, you're so lucky to find a song that the first time you hear it it grabs you and won't let go," she admitted before singing a track from the next album, out October 18, entitled 'I'm Gonna Love You Through It.'
After her 'Teenage Daughters,' Martina talked about the first time she heard that a girl on 'American Idol' had performed her song, and how she was "blown away" by it. The stadium was filled with cheers as the girl in question, Lauren Alaina, joined the songstress for a duet of 'Anyway.'
However, the night came to a halt following Martina's performance of 'Broken Wing,' as the singer teared up as a result of the unparalleled praise from the audience. "I wish you all could know what that feels like to me," she said after composing herself. "You're the reason I do this."
Not long after Martina closed her set with 'Independence Day,' the boys of Rascal Flatts appeared in the middle of the stadium floor to film the opening of the upcoming ABC-TV special, 'CMA Music Festival: Country's Night to Rock.' They stayed on the small stage for their current tune, "I Will Stand by You,' before moving back to the main stage with 'Here's to You.'
The trio went through their hits from 'Prayin' for Daylight,' to 'Every Day Love' and 'Fast Cars and Freedom.' Fans were line dancing in the aisles for 'Why Wait,' before singing along to the choruses of 'Life Is a Highway.' The threesome invited Little Big Town back to the stage for their medley of Boston's 'Long Time,' Kansas' 'Carry on Wayward Son' and the Edgar Winter Group's 'Free Ride.'