Lady Antebellum to Headline Last Night of Country Thunder 2013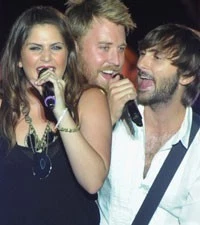 Lady Antebellum recently wrapped up its European tour, and will head to Australia in September, but the trio is already signing on for American dates in 2013. The threesome is the first artist to sign on to next year's Country Thunder festival in Twin Lakes, Wis. While the rest of the schedule for the four-day event is still to come, the trio will close the weekend of country music, headlining the last night.
The 2012 event, which marked the festival's 20th anniversary, included performances by Toby Keith, Jason Aldean, Blake Shelton and Big & Rich. Dwight Yoakam, Easton Corbin, Thomas Rhett and Casey James were also on hand for this year's shindig, which was held July 19-22.
The 2013 Country Thunder in Wisconsin takes place July 18-21 in Twin Lakes. Get more information here.
Watch 'On the Road With Lady A'
#fivemin-widget-blogsmith-image-863093{display:none;} .cke_show_borders #fivemin-widget-blogsmith-image-863093, #postcontentcontainer #fivemin-widget-blogsmith-image-863093{width:570px;height:411px;display:block;}

try{document.getElementById("fivemin-widget-blogsmith-image-863093″).style.display="none";}catch(e){}
Watch Lady A's Video for "Wanted You More"