Kip Moore 'Hey Pretty Girl' Video & Behind-the-Scenes Photos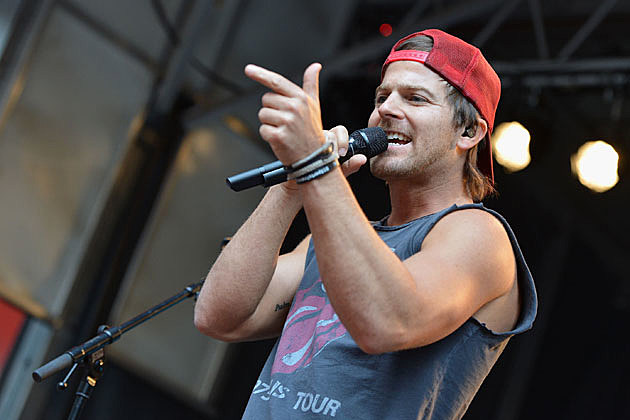 Kip Moore's current single "Hey Pretty Girl" is a sweet song about meeting, winning and making a life with the perfect woman. However, for the tune's video, the singer-songwriter wanted to show real love, rather than hiring an actress to play his on-screen sweetheart.
"I didn't want to have a love interest, I wanted the performance to just be about me playing and singing the song," Kip tells The Boot. "And then about real life people, couples, grandparents with their granddaughters … I wanted to capture innocent moments of people holding hands, people painting a house together — not anything raunchy, rolling around, making out. I wanted to capture the innocent moments between father and daughter, between mother and daughter, between young couples."
Watch Kip Moore's 'Hey Pretty Girl' video and see behind-the-scenes pictures below.
Watch Kip Moore's 'Hey Pretty Girl' Video
In order to make that idea a reality, the chart topper enlisted like-minded director Chris Hicky. "I'm very hands on with everything that I do, and I actually had my own treatment drawn up and his matched mine almost to the 't' so that's why I chose to go with him," Kip explains. "And I love what he does."
While making videos is nothing new for the Georgia native — he's already released four, as well as several performance clips — he still finds one thing about the process really nerve-racking. "Having everybody watching you the whole time, it's an odd thing with everybody sitting over you, watching your every move and critiquing every bit of you," he admits. "It's not a natural thing. Playing music for me is natural and playing a show is natural but a video is not a natural thing. I'm trying to learn to adapt to it and block out everybody and do my thing."
Part of that process also includes singing along to his own record. So, what's his trick to lip syncing? "Actually, I don't lip sync, I actually sing full on with the track. I make sure that I'm pushing out the air so that it looks like it isn't off in performance," Kip reveals. "It's definitely a difficult thing. On my first video, I wasn't singing because I felt weird for the people that were having to listen to me over and over, so I lip synced to the track. But now I push out like I'm singing live and right along with the track so it feels authentic."
Fans may remember having seen an acoustic video for "Hey Pretty Girl" last year, but they shouldn't be confused by the new, big production clip. "We went a little bit of a proactive route," Kip explains. "We're about to do it again. In the midst of this thing, we're about to film another mini video for 'Crazy One More Time' and put it out and let it go viral. We're trying to stay ahead of the game and trying to give people something else to hear and see and so when we go to play shows they know it. Because 'Hey Pretty Girl,' actually, when we played it live was already a hit long before it hit radios because of that little mini video we did."