Kenny Rogers Kicks Off 30th Christmas Tour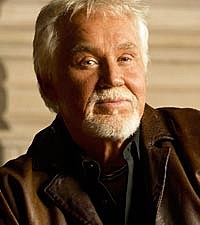 Kenny Rogers began his 30th annual Christmas tour last week, performing traditional Christmas carols, as well as several of his own classic hits. The 73-year-old, who released his first album of holiday tunes in 1981 ('Christmas'), has released seven more seasonal records in the last three decades, including his first live CD of Christmas tunes last year.
"I think a Christmas audience comes to a show with a different mindset that any other," Kenny explains to Billboard magazine of his love for the season. "A Christmas audience comes in and they say, 'I really want to enjoy this.' Someone coming into a regular show wanting to hear the hits will say, 'Make me enjoy this.' I think they're there to be happy."
The multi-platinum selling singer, who rose to fame with songs like 'The Gambler,' 'Islands in the Stream' and 'Morning Desire,' also released 'The Love of God,' an album of hymns sold exclusively at Cracker Barrel, earlier this year. Sharing his own beliefs on the new CD inspired the Texas native to also share more openly with the crowd each night why Christmas is so important to him.
"I don't think it's fair to say to a paying audience that, 'These are my beliefs. I hope you believe them, too," he maintains. "I don't want that. I don't want to go to a show and have them tell me what they believe. I want to hear their music. So I was hesitant about doing that, but Cracker Barrel gave me the chance to do that without feeling bad. Christmas also gives me that opportunity. It says, 'This is a Christmas show. If you don't want to hear Christmas music, this is not your deal.'"
The married father of six is also working on a new set of country tunes, but in spite of an epic career that boasts 19 Top 20 albums and 21 No. 1 singles, he insists the upcoming CD will succeed — or fail — based not on his name, but solely on the songs he records.
"Radio has always been generous to me, but in effect they say 'Do a great record, and we'll play it,'" he explains. "If it's not great, you'll stand in line with everyone else. I think that's fair. I don't expect special treatment. But if I do a great song, they just might play it."
See Kenny's Christmas & Hits tour schedule, which includes Billy Dean as the opening act, here.
On the Red Carpet With Kenny Rogers