Kenny Chesney's 'Somewhere' Is Still on Top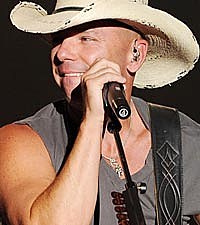 Kenny Chesney's 'Somewhere With You' tops both the Country Aircheck/Mediabase and Billboard country charts for the third week in a row. Keith Urban's 'Put You in a Song' remains at No. 2, followed by Chris Young's 'Voices' in third place on both charts.
Kenny explains the hit song's great lyrics were what drew him to record the song in the first place. "I love the line of this song where [it says], 'I can't go out every night of the week/I can't go home with anybody I meet/and it's just a temporary high/'cause when I close my eyes/I'm somewhere with you,'" says the entertainer. "Anybody that has been in a relationship associates certain places or certain things or certain music, food, whatever, back to that person."
'Somewhere With You' is the latest smash from 'Hemingway's Whiskey,' which also features Kenny's football-themed No. 1 hit, 'The Boys of Fall.'
Kenny returns to the road for his Goin' Coastal tour on March 17 in West Palm Beach, Fla. The trek is expected to hit 41 arenas and amphitheaters and 10 stadium shows before wrapping in August. For more information on Kenny's tour dates, click here.