Kenny Chesney Flies Like an Eagle — Photo of the Week
Looks like Kenny Chesney and Andy Reid have traded hats.
The country superstar's Goin' Coastal Tour made a stop at Philadelphia's Lincoln Financial Field on Sunday (June 19), where the sold-out crowd of more than 52,000 fans was treated to a few special guests. Philadelphia Eagles coach Andy Reid appeared to introduce Kenny's latest No. 1 hit, 'The Boys of Fall.' Swapping headgear with the legendary coach, the Tennessee native (and arguably the biggest football fan in all of country music) sported an Eagles helmet to sing the gridiron-inspired song.
Grace Potter was also a well-kept secret in Philly, making a surprise appearance for her duet with Kenny, 'You and Tequila,' along with a cover of the Eagles' 'Take It Easy.'
"Philadelphia is a very passionate city, and our fans there reflected that this year like they never have," says Kenny. "They love their food, their sports, and their music. The band and I sure felt a lot of energy and love in that stadium. And to stand up there for the first time at a show and sing 'You And Tequila' with Grace was very special."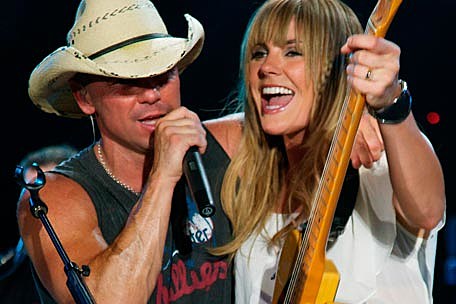 Kenny is on tour with Zac Brown Band and Uncle Kracker, who joins him on stage every night for their classic duet, 'When the Sun Goes Down.' Their next stops are Cleveland, Ohio on June 23, followed by Indianapolis, Ind. on June 25 and Columbus, Ohio on June 25.